North Carolina runners are familiar with epic Blue Ridge Mountain trails like the Art Loeb trail in the Pisgah National Forest and the iconic Firetower trail run at Moses Cone Park. But did you know there are great trails to run near most every major city in North Carolina? These great trails lend themselves to just about any runner's fancy. The staff at Great Outdoor Provision Co. have selected some of their favorites for us to share with you. Whatever your choice, always remember to wear appropriate footwear, let someone know where you are going, and carry sufficient water to stay hydrated.
Raleigh Area
Umstead Park (Singletrack)
Difficulty: Moderate
Time to complete: 2-3 hours
Address: 8801 Glenwood Ave., Raleigh, NC, 27617
Umstead State Park offers Triangle runners the best of both worlds. Runners of all persuasions take advantage of the 13 miles of finely crushed gravel bike and bridle trail found in the 5,600-acre park (see related entry). Trail runners have another 20 miles of hiking trail to work into the training mix.
From the park's Reedy Creek entrance off Interstate 40 at Harrison Avenue there are two popular options: The Company Mill trail descends for a mile, over three gentle ridgelines to Crabtree Creek, offering a nice warm-up. Then, a loop takes runners through maturing forest on a rolling trail that's often rooty and rocky: watch your step. Company Mill alone is 5.8 miles; tack on the Inspiration Loop Trail near the start for an even 6.
Another option from the Reedy Creek entrance: the Loblolly Trail, which runs 2.7 miles to the park boundary. Return on it for a 5.4-mile run or make your way back using the Turkey Creek and Reedy Creek bike and bridle trails.
From the park's entrance off U.S. 70/Glenwood Avenue, a popular option is the Sycamore Trail, a 7.2-mile lollipop loop that takes runners to the center of this urban forest with some nice, prolonged, climbs. Other shorter options can be found on this side of the park, most notably the 2.75-mile Sal's Branch Trail, a gently rolling run that's well-suited for newbies.
A nice, long run: combining the Company Mill and Sycamore loops, which will result in about a 10-mile trip.
Umstead Park (bike and bridle trail)
Difficulty: Moderate
Time to complete: 1-5 hours
Address: 8801 Glenwood Ave., Raleigh, NC, 27617
Umstead's bike and bridle trail is the core of the Umstead 100, one of the most popular ultra trail runs in the country. The race is popular because the tread is a foot-friendly, finely crushed gravel surface that stands up well to miles of foot-pounding. Because it's double-track, it's also a popular site for group runs as well as for a couple of buddies who like to train together and make the miles pass faster as they catch up.
Umstead has two main entrances — off I-40 at Harrison Avenue and off U.S. 70/Glenwood Avenue — but the most popular entrance for runners is the neighborhood entrance at Lake Crabtree on Old Reedy Creek Road. Park near the bridge and warm up with a gentle half-mile climb to the park gate on a gravel road. From the gate to the gate at the far end of the park is 5 miles — a 10-mile out-and-back. The 2 miles or so is relatively flat; after that, it's a series of long climbs.
For exceptional hill work throw the Turkey Creek Trail into the mix. Not much flat here, especially on the North Turkey Creek leg, which features a number of short, steep climbs.
The bike and bridle trail meshes well with the 20-mile network of singletrack, making the centrally located Umstead a prime destination for the Triangle's trail-running community.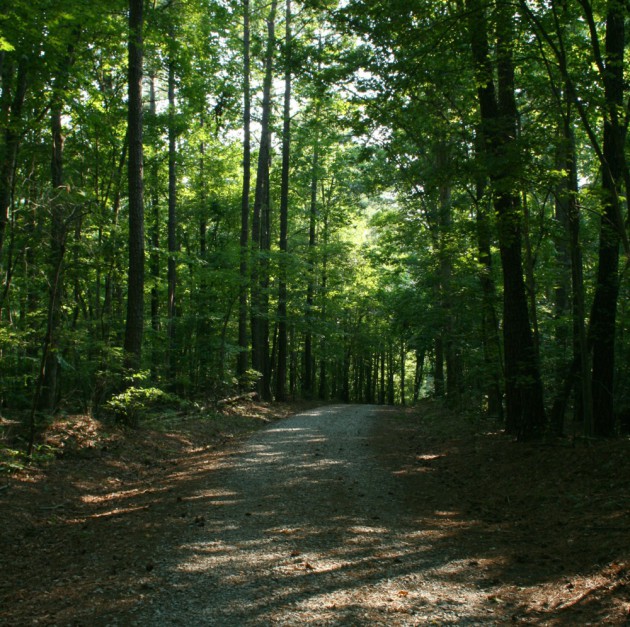 Durham Area
Eno River (Cabe Lands Access to West Point on the Eno city park)
Difficulty: Moderate
Time to complete: 1.5 to 3 hours
Address: Howe Street (just west of Sparger Road), Durham, NC, 27705
This run has it all: length, variety, scenery, a fast finish.
Length: At 8.6 miles one way, you'll need to get a shuttle (which takes about 15 minutes). Or, you can do a 17.2-mile out-and-back. Or you can out-and-back a shorter version. This is a run for all occasions.
Variety: The trail starts with a leg-stretching downhill, then for about 5 miles is a mix of up and down intermingled with flat recovery stretches. The last 3 miles, after crossing Guess Road (the only road crossing and one slight bummer of the run), are relatively flat, allowing for either some end-of-race speed work or some contemplative oh-what-lovely-scenery end-of-trail running.
Scenery: The Eno never fails to disappoint. This smallish waterway has a surprisingly rocky composition, giving the welcome illusion, especially on a head-clearing trail run, of being in the mountains. There's some human history to take in mid-run, at the Pump Station Access, and the finish along the millpond is mountain and coast in one.
Stellar running, no matter what your objective.
Duke Forest
Difficulty: Moderate
Time to complete: 45 minutes to 1.5 hours
Address: 4012 Whitfield Road, Chapel Hill, NC, 27514
There's a lot of opportunity in Duke Forest, which isn't one forest, but six tracts comprising 7,060 acres in Durham, Orange and Alamance counties. While the main use of the land is teaching and research by Duke University, and while the forest roads that penetrate the forest are primarily there for access for said priorities, they are also open for your recreational pursuits.
You will find lots of opportunity on these trails: opportunity to get in some miles, opportunity to attack hills, opportunity to get lost. That is, unless you invest the $8 for a detailed forest map (the online version referenced below is more of a general locator map; the link will tell you how to score the more detailed version) showing specific trails and specific access points.
The most popular divisions for recreation are the Durham Division, which begins near Duke University in Durham, runs northwest to the Orange County line, then southwest; and the Korstian Division, which is in Orange County largely between Mt. Sinai Road to the north and Whitfield Road to the south. A good 4.5-mile route: Park across from the firehouse on Whitfield Road near Sunrise Road (about midway between NC 86 and Erwin Road) and pick up the gated fire road/trail near the firehouse. The trail drops down to New Hope Creek then makes a steep climb for about 3/8 of a mile. About midway there's a fork; go right. The trail loops back around, crossing New Hope Creek once again before coming back to Whitfield Road. Either take the road about a third of a mile back to your car or reverse the loop for a 9-mile run.
Spend $8 on the Duke Forest map and plot additional runs.
Chapel Hill/Carrboro Area
Little River Regional Park
Difficulty: Moderate
Time to complete: 45 minutes to 2 hours
Address: 301 Little River Park Way, Rougemont, NC, 27572
This relatively new (2004) 391-acre park includes 7 miles of hiking trail and 7 miles of mountain bike trail. While the annual Little River Trail Run http://www.trailheads.org/lrtr/ includes the singletrack mountain bike trail in its 10-mile option (which you can find here: http://www.trailheads.org/lrtr/) the route we suggest sticks to the hiking-only trail and runs about 5. (We eschew the mountain bike trail because there's enough hiking trail here that we can; some runners aren't comfortable sharing the trail with fleet-of-tread mountain bikers.)
From the parking area, head down the gravel road near the rest rooms for a quarter mile to the main trail junction. Here, pick up the 1.8-mile South River Loop Trail, which will give you a taste of the Little River and the hardwood forest that dominates the preserve. The loop brings you back to the trail junction; this time, take the Ridge Trail, a 1.5-mile out-and-back. This trail climbs a mellow ridge to its apex. Here, pick up the 1.2-mile North River Loop, which takes you down to the stream, then back up to the top. The mellow descent back down the Ridge Trail and the short, quarter-mile climb back to your car is a nice way to end your run.
Carolina North
Difficulty: Moderate
Time to complete: 45 to 90 minutes
Address: 1089 Municipal Drive, Chapel Hill, NC, 27599
For decades, the 750-acre woodland known both as the Horace Williams Tract and Carolina North was the unofficial playground of folks from Chapel Hill and Carrboro. About 10 years ago, it started to become a more official playground.
In part, the change was necessitated by the unofficial trail network's increasing use by mountain bikers and a desire by the University of North Carolina at Chapel Hill, which owns the tract, to minimize user impact. In return for "official" access, local mountain bikers were invited to help build and maintain the trails. The network has become the better for it.
Carolina North is one place where hikers, runners and bikers recreate together in relative peace. In part, that's because the mountain bikers are more attracted to the twisty-turny singletrack trails that best test their skills. Trail runners, on the other hand, gravitate to the forest roads that offer straighter passage with some nice, rolling challenge. From the main trailhead off Martin Luther King Jr. Boulevard there's a primary loop, the 2-mile The Pumpkin, and the out-and-back The Vine, which will add close to another 2 miles. Cross Seawell School Road near the elementary school that shares the name and you'll find another 2-plus miles of doubletrack.
You can also run the singletrack favored by the mountain bikers, which is incorporated into both the 7k and 15k versions of The Philosopher's Way annual trail run. For more information on these races please visit http://www.trailheads.org/.
Winston-Salem Area
Pilot Mountain
Pilot Mountain is a tale of two workouts.
Need some mountain training? The 7.2-mile loop created by stringing together the Mountain, Grindstone and Grassy Ridge trails offers up-and-down around the base and midsection of Pilot Mountain, a 2,420-foot knob that rises 1,400 feet above the surrounding countryside. It's got the rocky, rooty, rolling challenges you expect in mountain runs.
But if you're more in need of a long run check out the 6.6-mile Corridor Horse Trail, which goes from the base of Pilot south toward the Yadkin River. Rated "moderate to strenuous" by the park, the trail is downward trending — unless you decide to make a half-marathon out-and-back of your run.
Advantage No. 1 for Winston-Salem runners: The trails are close, about a 25-minute drive from downtown.
Advantage No. 2: Although Pilot Mountain is one of North Carolina's most popular state parks, most of the visitation is up top, where park visitors can drive and casually noodle around, taking in the views. The hard-work trails, the ones you're interested in, are of scant interest to the point-and-shoot and picnic set.
Difficulty: Moderate
Time to complete: 1.5-3 hours
Address: 1792 Pilot Knob Park Road, Pinnacle, NC, 27043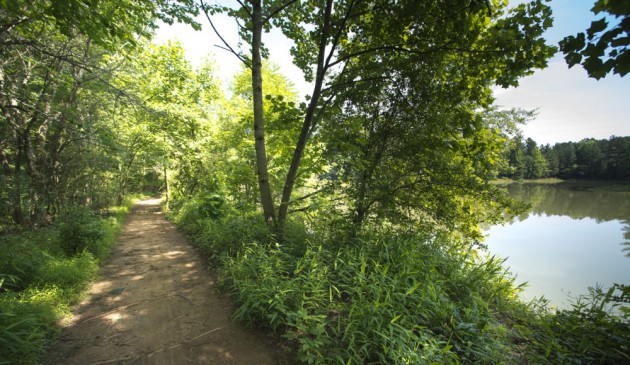 Charlotte Area
McAlpine Park Greenway
Difficulty: Easy
Time to complete: Sub-15 minutes (if you're a world-class runner)
Address: 8711 Monroe Road, Charlotte, NC, 28212
Anyone familiar with competitive cross-country running in North Carolina — or in the Southeast, for that matter — knows about McAlpine Park. Amid the fishing pier, the gazebo, the horseshoe pits at this 462-acre county park is one of the most popular cross-country courses in the region.
How good is the course? For the answer, we'll defer to someone with credentials, Wake Forest University senior Allison Homer, who's raced the course numerous times as a Deacon, including a season-best 18 minute, 21.5 second, performance at last year's Charlotte Invitational. (She also works in the Great Outdoor Provision Co.'s Winston-Salem store.)
"The best and fastest cross-country course in the Southeast USA," says Homer. "Great for speed work. Extremely well-kept, hard-packed dirt. Starts next to a field, goes into a beautiful wooded section, out around a pond, then back into a field. Watch your step going down the hill – super steep and narrow."
For a longer run, hook up with several miles of adjoining greenway out of the park.
Crowders Mountain – Ridgeline Trail
Difficulty: Strenuous
Time to complete: 2-6 hours
Address: 522 Park Office Lane, Kings Mountain, NC, 28086
A common lament for Piedmont trail runners is that it's hard to find mountain training close to home. Actually, we should say that's a common lament for trail runners outside the Charlotte area.
The two-state Ridgeline Trail, joining Crowders Mountain State Park to the north in North Carolina with Kings Mountain State Park in South Carolina, offers a 12-mile training run that's just about ideal. Start on the North Carolina end and you're faced with a goodly amount of climbing in your first 2 3/4 miles. A mile and a half in, after some good rollers, you'll encounter nearly 600 feet of vertical climbing, up to 1,705-foot Kings Pinnacle, in a half mile.
For the next 6 miles, to the South Carolina border, it's a gradual downhill overall, but with a decent amount of up-and-down. Then, almost magically, at the South Carolina border the trail flatlines: The last 3.7 miles is a mellow cruise into Kings Mountain State Park.
An especially good run if you're looking to up your distance into the double digits.
National Whitewater Center
Difficulty: Moderate to strenuous
Time to complete: 1-3 hours
Address: 5000 Whitewater Center Parkway, Charlotte, NC, 28214
This well-marked trail network is a multiuse system popular with hikers and mountain bikers as well. You don't see many of the former, and while you do the latter, their presence benefits the trail runner because the trails, as is the case with most mountain bike trails, are well-marked and identified by degree of difficulty. Warm up on the green ("beginner/easy, mostly flat trails"), progress to the blue ("intermediate, slight elevation changes") and if you're up for it, proceed to the black ("advanced, steep elevation changes"). All meander through a lush, mature Piedmont forest.
The green and blue trails are well-maintained and foot-friendly. The black appeal to a hard-core mountain biker's sensibilities: stream crossings, rocks and roots are prized features. Thus, they may be beyond what the average trail runner is up for.
A couple of caveats: These trails are closed when wet; if in doubt, check the website (trail status is indicated on the home page). And because the trails are on the grounds of the Whitewater Center, there is a fee of $5 per visit, or $40 annually. (Note: This fee does not include admission to the Whitewater Center and its various activities.)