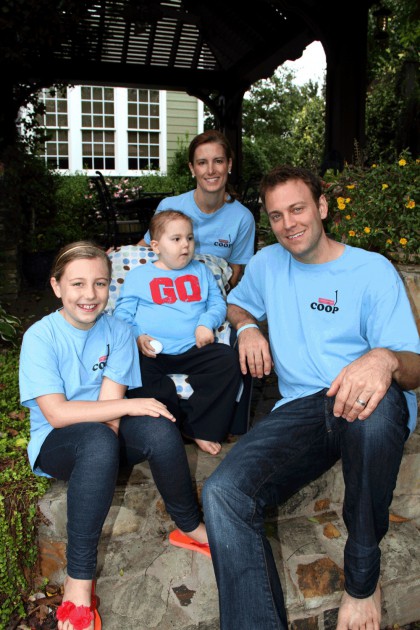 Having a child diagnosed with cancer is among every parent's worst nightmares. But few are aware of the logistical nightmare that comes with fighting to save your child's life. Elise and Justin Herman got a crash course in all this when their son, Cooper, was diagnosed with brain cancer in 2009. Over the next 5 years they sought out treatments at five facilities in five states.
"Life is forever changed. The travel is a requirement when it comes to pediatric cancers, as everything is experimental or a trial and often not in your home state. The mental and financial burden can take a toll on a family," Elise says. "But you can't think about that. You just have to think about keeping your child healthy."
The Hermans didn't buckle. "As odd as it may sound, we felt blessed because we had support and financial capabilities," Elise says. "Without that, I truly didn't know how families do it. Brain tumors have no socioeconomic boundary, nor do they discriminate based on gender or ethnicity."
That realization hit the Hermans early, which is why they started Super Cooper's Little Red Wagon Foundation in 2010. They wanted to give other people as close to the same support and a home away from home that others had given them: a safe, clean, comfortable place to stay, warm meals and a listening ear.
In August of last year, the first Super ReCOOPERation homes opened up. Three units, one in Chapel Hill and two in Durham, were made available to families with pediatric cancer. Volunteers bring meals daily, toys are dropped off and a feeling of community is provided. Some 40 families have been served in that time.
After five years of a brave and hard-fought battle, Cooper passed away in January 2014. His parents are now fully focused on keeping his memory and legacy alive by working to never have to turn away a family in need. Here are three stories of families sustained by Super Cooper.
The Lockhart family
In 2010, at age 2, Nathan Lockhart was diagnosed with a rare brain tumor. Just weeks prior, his father, Mike, had been diagnosed with cancer. When Mike died in 2011, Beth Lockhart was left to fight for her son on her own.
"We went from a normal, working heartland family to a single-parent, Medicaid, government-assistance family in a blink," Beth says.
After an initially positive prognosis, Nathan's tumor turned very aggressive. He's endured 10 failed chemotherapy drugs, 15 surgeries and two failed clinical trials. In 2013, Nathan began a new oral chemotherapy intervention, which required monthly treks from Kentucky to Duke.
"The financial expense of fighting to save Nathan is far more than most can fathom," Beth says. "It is insurance premiums, copays, deductibles, medicine, physical, occupational and speech therapies. It is also plane tickets, rental cars, hotel rooms, food, car maintenance, gas, parking, and trying to keep the lights on and provide a home for Nathan in all the crazy."
Enter Super Cooper: The Lockharts were the second family to take residence in the Chapel Hill townhome and have used the facility three times. "The emotional support from the foundation members and supporters and the knowledge of some fellow brain tumor families is priceless," Beth says. "They have brought us food and comfort when Nathan has been inpatient, toys and Pull-Ups when we couldn't get out to get them, and hope when we are low and running on empty. We are blessed they have become a part of Nathan's team and that we have become a part of Cooper's legacy."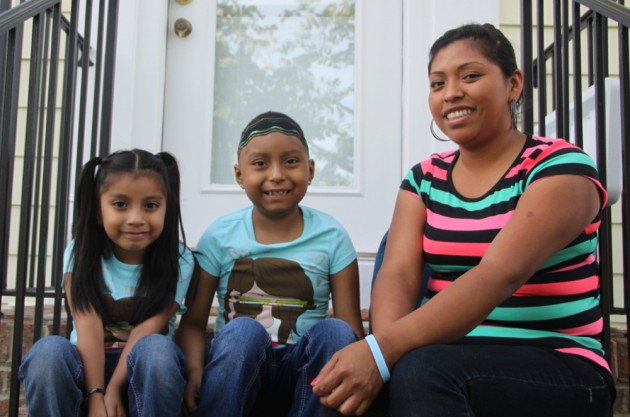 The Alvarez Sandoval family
Life was hard enough for Lucresia as the single mother of two young daughters. That was compounded last year when one of her daughters, Elena, now 7, was diagnosed with brain cancer. Chemotherapy and radiation treatments began at UNC Hospitals, requiring almost daily trips from Graham, N.C. "I became despaired thinking how in the world I was going to do this financially," Lucresia said through a Spanish translator.
Enter Super Cooper: Volunteers brought meals, toys and affection for the family. "We couldn't believe how nice and comfortable it was," she said of the ReCOOPERation facility. "The girls ran excitedly around as if it had come to be their little palace."
The Hulsey family
Sadie Hulsey, now 3, had a bone marrow transplant at 20 months old, which involved an eight-month stay in the Chapel Hill area. She stayed well for a time but started to relapse last year and needed to resume chemo treatments.
Enter Super Cooper: It's become a safe haven for Sadie, her mom, Candace, and her 4-month-old sister, Lanier. (Dad Jeff comes up on the weekends after working all week in Wilmington.)
Candace echoed others when she said the private accommodations are critical for someone with Sadie's weakened immune system.
"It's very comfortable, it's very clean," Candace says. "People would bring us food, and the food was really good. They should make a cookbook. You just felt very taken care of. It really helps you breathe a little deeper. We've got this part taken care of. I know where my children are going to sleep tonight. I know they'll have enough to eat. That's a big comfort."
Cooper's oncologist at UNC Hospital, Stuart Gold, said it best. "The home has been well-utilized. It has been a safe haven and a place of rest, warmth and peace for many families going through a tumultuous time."
5th Annual Super Cooper's Rockin' Run Festival
The fifth annual Super Cooper's Rockin' Run Festival, a chipped 5k run and family festival and primary fundraiser for the foundation, will be held Sept. 20, 2014, in Chapel Hill. Visit supercooperswagon.org to learn more about registration and being a part of this much-needed foundation.
Statistics
28,000 children in the U.S. are living with a brain tumor diagnosis.
4,600-plus children are diagnosed with a brain tumor every year in the U.S.
Brain tumors are the leading cause of solid tumor cancer death in children under the age of 20, now surpassing acute lymphoblastic leukemia. They are the second leading cause of cancer death in male adults ages 20-29 and the fifth leading cause of cancer death in female adults ages 20-39
Cancer is the leading cause of death by disease among U.S. children 1 to 14 years of age.  (National Cancer Institute)