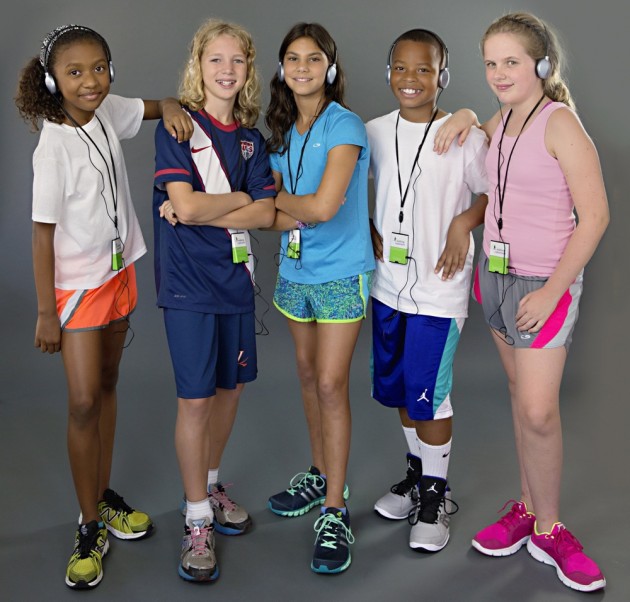 By Jennifer Kirby
Before moving to Chapel Hill, Laura Fenn taught for years in East Harlem and New Jersey, and for all the differences among the settings, certain similarities were undeniable.
"Regardless of what the environment was, whether it was a high-income or low-income area, what was happening in the schools was the same," she says. "Time for PE and recess was being cut, if not eliminated altogether. A lot of my students, especially my bus riders, very often those kids would not get any physical activity whatsoever.
"The kids would be very lethargic in school. It wasn't uncommon for students to fall asleep, and not for my lack of trying to make the teaching engaging, but they were just tired," she says. "And then on the other end of the spectrum you had students with ADD or ADHD bouncing off the walls and trying to use all their energy to keep it together and not be disruptive."
Fenn's "aha" moment, the catalyst for what grew into the Walking Classroom Institute, came one day as she was taking a walk. "I was listening to a podcast I had downloaded and I got to thinking, 'Here I am, I'm getting some fresh air, I'm getting some desperately needed exercise, my mood is improving, I'm learning something – my kids could do this,'" she recalls.
Inspired, she wrote a grant, received a classroom set of MP3 players and downloaded podcasts for her fifth-graders – educational ones geared toward adults, because she find only "junk" intended for adolescents. And they started taking short walks, a few times a week.
"I couldn't just take them out for recess; I wasn't allowed to," she says. "This way I could tell my principal honestly that they were still getting instructional time, but in my heart of hearts I knew that they were getting a chance to burn off some extra energy, and on the other end of the spectrum, those kids who were tired and lethargic could get some fresh air and some exercise so they could wake up."
Her students "went nuts for it," and the results were immediate. "They were more focused, they were more productive, they were in better moods, they were better behaved – it was time so well-spent," she says.
That was in 2008. The Walking Classroom Institute was incorporated as a nonprofit in 2011, and today, thousands of students in 140 classrooms in 20 states are reaping the benefits of Fenn's epiphany.
The Walking Classroom produces "WalkKits" that are loaded with a school year's worth of custom-written 15-minute podcasts. The podcasts align with the English language arts common core state standards for fifth grade (other grades are in development) and come with a corresponding lesson plan. They also include a brief health-literacy message on a topic such as nutrition, sleep habits, or tobacco and alcohol awareness. Students listen to the podcasts as they take a group walk with their teacher.
Several prestigious awards, including, most recently, a Readers' Choice Award from eSchool News, have helped propel the Walking Classroom's growth. The many schools that can't simply write a check for classroom sets can apply for a grant through an application on the website, www.thewalkingclassroom.org, and Fenn spends much of her time working to secure funding to provide for the nearly 200 schools on the waitlist.
"We have literally thousands of kids around the country who could stand to benefit – the only barrier is we're not able to get sets out because we don't have the money to do it," she says. "It's kids, it's health, it's education – it's such an easy thing to feel good about."
She tells of a Los Angeles teacher who was thrilled that after incorporating the Walking Classroom, all 36 of her students, for the first time ever, were able to complete a mile in less than 15 minutes.
"I think that's really the beauty of this program, that it's just walking," she says. "A lot of the students, especially the really overweight and obese kids, they hate recess, they hate PE, because it amplifies again what they're not good at. Whereas with walking, there's no pressure, and everybody can do it. It's not daunting."
# # #
Jennifer Kirbylives in Aberdeen, N.C., with her husband and two preschoolers, and loves a good long run with a chill in the air. Contact her at jennkirby@alumni.unc.edu or via her website, www.jenniferdarekirby.com.