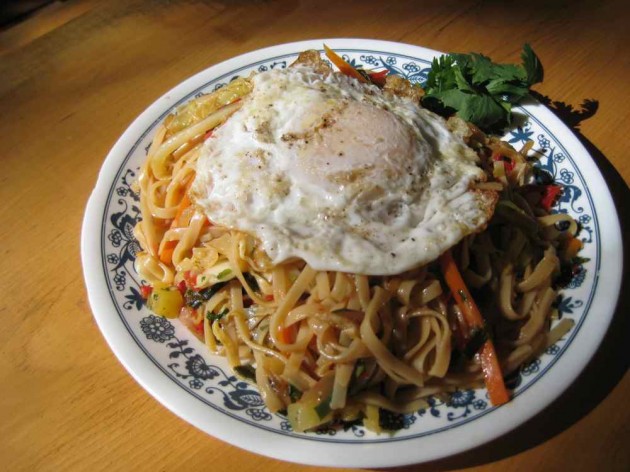 By Brandon McDearis
Ingredients:
8 oz rice noodles
1/4 cup soy sauce
1/2 cup honey or agave nectar
Juice of 2 limes
1.5 T hot chili sauce (such as Sirracha)
2 T sweet chili sauce
1 T rice wine vinegar
2 t fish sauce
1.5 T canola oil (plus additional oil for frying the eggs)
1/2 a head of shredded green cabbage
1/2 red pepper, julienned
1/2 red onion, julienned
2 carrots, julienned
4 cloves garlic, minced
2 t ginger minced
1/2 cup of chopped cilantro
1/4 cup chopped scallions
1 egg (per serving)
Directions:
Cook noodles according to package directions. Strain and shock in a bowl of cold water and set aside.
Combine the next 8 ingredients to make the sauce and set aside.
Heat the oil in a large sauté pan or wok and sauté cabbage, red pepper, onion and carrot for about 3 minutes at high heat, stirring constantly. Add the garlic and ginger and cook for an additional minute. Add noodles and sauce and stir for about 10 seconds until everything is evenly coated with the sauce and remove from heat.
In a nonstick pan, fry 1 egg per serving of stir-fry to desired doneness. Garnish stir-fry with cilantro and scallions and top with fried egg.
Nutrition Facts Per Serving:
Calories: 302 / Fat: 8g / Saturated Fat: 2g / Carbohydrates: 32g / Fiber: 3g / Protein: 5g
# # #
Brandon McDearis is a personal chef working in the Charlotte area. He currently owns and operates Your Way Cuisine, www.yourwaycuisine.com. In addition to his culinary training, Brandon also holds a bachelor of science degree in foods and nutrition, with a concentration in dietetics. He primarily focuses on healthy cooking and addressing specific dietary needs of everyone from professional and amateur athletes to busy families and elderly people. Brandon is also one of the board of directors for Wellspring International Outreach (www.wellspring-outreach.org) and works with a group of others to raise money for the abandoned children of Peru.