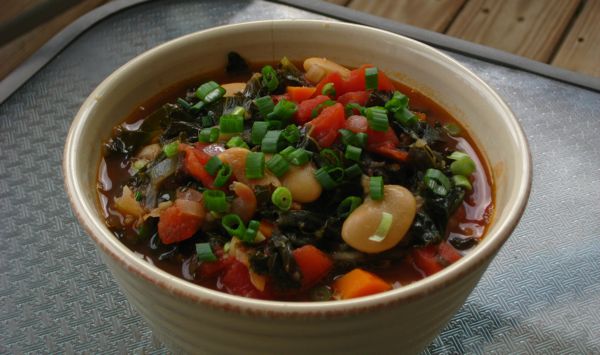 By Brandon McDearis
One of my personal nutrition goals for this year has been to eat more kale. Kale, also known as borecole, is a form of cabbage that is highly nutritious. It is considered to be an anti-inflammatory vegetable that contains sulforaphane, a chemical believed to have powerful cancer-fighting properties. Kale also contains many other antioxidants, as well high doses of vitamins and minerals such as vitamins C and K, beta carotene, lutein, iron and calcium.
There are many creative ways to slip kale into one's diet. In addition to adding it to salads, pastas, and vegetable medleys, I love cooking it into some of my favorite soups. This white bean and kale soup makes for an extremely clean, nutrient-dense meal that will also bring a bit of comfort on a cold winter's day. A big batch of it will keep for most of the week and can be the answer to multiple lunches, dinners, and afternoon snacks throughout the week. If you don't do well with leftovers, then feel free to put a few servings in the freezer. It can be frozen for up to 6 months without losing any quality, and it could make for a nice surprise when you are searching for something to have for dinner at the last minute weeks or months down the road. This recipe serves 8.
– 1 sweet onion diced
– 1 red bell pepper diced
– 2 medium-sized carrots diced
– 3 cloves garlic minced
– 2 tablespoons of olive oil
– ¼ cup of dry white wine such as Chardonnay
– 1 16oz cans of Great Northern Beans (strained and rinsed)
– 1 16oz can of white butter beans (strained and rinsed)
– 4 16 oz cans of stewed tomatoes
– 2 cups vegetable stock
– 1 bunch of kale (washed, pulled from stems and roughly chopped)
– 2 teaspoons of cumin
– 1 teaspoon chili powder
– 1 teaspoon paprika
– 1 dash of Tabasco
– salt and pepper to taste
– 1 bunch of green onions
1. In a heavy-bottomed sauce pot, saute the onion, pepper, and carrots in the olive oil at medium-high heat for about 2-3 minutes until tender. Add the garlic and continue sauteing for 1-2 more minutes. Add the white wine to deglaze the pan and let reduce half way for about 30 seconds.
2. Add the Great Northern Beans, the the butter beans, the stewed tomatoes, and the vegetable stock to the pot. Bring to a boil while adding the kale a handful at a time until it wilts down. Reduce heat to medium-low, stir, then cover, and simmer for 10 minutes. Add the next 4 ingredients, stir, cover again, and continue to cook for another 15-20 minutes.
3. Remove from heat, season with salt and pepper to your liking and add the green onions.
# # #
Brandon McDearis is a personal chef working in the Charlotte area. He currently owns and operates Your Way Cuisine, www.yourwaycuisine.com. In addition to his culinary training, Brandon also holds a Bachelor of Science degree in foods and nutrition, with a concentration in dietetics. He primarily focuses on healthy cooking and addressing specific dietary needs of everyone from professional and amateur athletes, to busy families and elderly people.