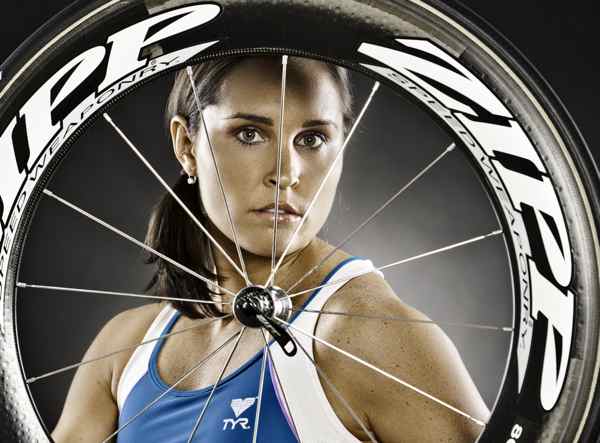 Story By Meredith Dolhare and Photo by Kim Hummel (www.kimhummel.com)
In a sport filled with Type As obsessed with both themselves and finding the perfect gear that will shave one minute off of their last 70.3, Kelly Fillnow is a breath of fresh air. She will never be consumed nor defined by this passion. It will never be all about her, no matter how good she gets. She wants to hear all about you and your last event (which was probably at least an hour slower). In fact, sitting down for this interview, it took 15 minutes just to get the conversation turned to the topic of Kelly so genuinely interested was she in everything unrelated to her meteoric rise. At Ironman Florida last year, she just discovered what compression socks and calf sleeves were, wore a borrowed, ill-fitting wetsuit for her very first ocean swim, and did not know how to change her tires. However, with Kelly the motto is "Just Push Play and Go" when the gun goes off, and she obliterated the competition.
Training with Kelly Fillnow is quite an adventure in itself. When you ride with Kelly, you embark on a journey that is all-inclusive. People are haphazardly getting on and off the route at various points, or looping back to the starting point to drop off and pick more up. Kelly may travel 23 mph in a race, but meander at 18 mph in training and not worry about it in the slightest. Her bike clanks, her helmet always seems to be on sideways, one leg of her shorts is rolled up, and her equipment is borrowed. It can make you wonder how she makes it from point A to point B, not to mention qualify for the Ironman World Championships in Kona. But really, it's no surprise when you consider her path to Ironman started as standout collegiate tennis player wearing baggy sweatpants and old sneakers trying to get in a workout with the cross-country team. Truly a genetic marvel, put the kid on a Huffy and she would still kill it. It has never been all about the gear.
Born in Pittsburgh, Kelly moved to the Van Der Meer Tennis Academy in Hilton Head, South Carolina, for her freshman year of high school with her older brother Patrick and twin sister Meghan in order to concentrate on tennis. The family is no stranger to making concessions for athletic prowess, and Mr. Fillnow made the weekly 12-hour commute from Pittsburgh to Hilton Head so that the girls could get the coaching they needed.
The move paid off, and both Kelly and Meghan received tennis scholarships to Davidson College after finishing junior tennis ranked 12th in the country as a doubles team. The twins continued to play doubles together at Davidson, and Kelly also led the team in the number-one singles position. Her sophomore year, Kelly approached the cross country coach and asked if she could come to some of the practices in order to cross-train for tennis.
"I began coming to practices in these big baggy sweatpants and old running shoes, while the rest of the team had very official-looking singlets and running gear on," says Kelly. "They were like, 'Who in the world is this girl?'"
Not for long. By her junior year, the coach virtually insisted that Kelly become an official member of the team because she was by far the fastest runner they had, and the second fastest in the entire conference. The mentoring and encouragement she received from this coach would prove to be very important as she opted to take her fifth year of eligibility at Duke University while studying education. At the time she ran, their cross-country program was number one in the country, and Kelly earned fifth place at the regional meet and qualified for the NCAA team. Incredibly enough, she ended up being a much better runner than a tennis player!
Briefly leaving competitive running behind, Kelly worked in sports marketing for Davidson College and then met Sara Hart from Upgrade Lifestyle, a personal training, nutrition, and lifestyle coaching center. Kelly found that she was passionate about this business and set to work getting all of her training for the job—including a Level I USAT Triathlon coaching certification.
In 2006, Kelly and some friends randomly decided to enter a triathlon, her first: The Angels Race in Winston Salem. In true Kelly fashion, she swam in running clothes, did the bike in running shoes and shorts on a borrowed bike with a flat rear tire, and came in third overall out of 150 finishers.
In November 2008, Kelly achieved a personal record of 1:19 at the half marathon distance at the Outback Distance Classic in Jacksonville, Florida. To follow that up, she also PR'd in the marathon that February 2009 at the 26.2 for Donna/National Marathon for Breast Cancer by running a 2:57, winning her age group, and placing eighth overall.
However, she did not complete another triathlon until 2008. That year, she signed up for several races in the North Carolina Triathlon Series (NCTS), and either won or was within the top five finishers of all of them. At the very difficult Duke Half Iron distance race, she went under five hours in her first 70.3 (4:55) and took the women's title. People aspire to do that for years before achieving it, and Kelly has never gone over five hours in a single one of her seven half iron distance races in two years. Her AVERAGE time for a 70.3 race is 4:50:12!
The next year proved even more eventful. Kelly qualified to represent Team USA in Concord for the Duathlon World Championships by placing second in her age group and third overall at Duathlon Nationals in Richmond, Virginia. Then, she proceeded to become the World Champion for Females 25–29 that September, and placed 17th in the overall world rankings. In addition, she won her age group at Ironman Florida in November of last year by going 10:16 in her first Ironman attempt, thereby qualifying for the World Championships this October in Kona.
Her coach, Cliff English of Cliff English Coaching (CEC) in Arizona, who also coaches 70.3 World Champion Samantha McGlone among others, believes her success is due in part to her attitude.
"One of Kelly's greatest assets is that she doesn't take herself too seriously," says English, "yet she is a very coachable, cerebral athlete full of good questions. She is a great person with all the right traits to be successful, but like Sam (McGlone), she waits until the gun goes off to rise to the occasion. She has incredible drive, determination, and pain tolerance. Kelly is an absolute pleasure to coach."
The results can go on and on and on. Kelly won Duathlon Nationals this year in Richmond, but opted not to go to Worlds because she is focusing on Kona. In addition to three other 70.3 races this season, she chose to race Ironman 70.3 Lake Stevens on August 15, where she earned her pro card by placing among the top three amateurs at the event (she was second). She ran a 1:27 half marathon off of the 56-mile bike to clench the age group title—a run that was seventh fastest overall.
"I'm really excited about next year and the prospect of racing pro. I am hoping that by starting with the pro field and knowing where I am based on their performances, it will really push me to get faster," says Kelly. "I know it will not be easy and I will probably struggle at first, but I am not one to shrink from a challenge."
She plans on putting at least two full distance Ironman events in her schedule, and five 70.3 events that play to her specific strengths as an athlete. In addition, she will compete in as many as two elite level duathlons and the P.F. Chang's Marathon in Arizona in January.
"Both Cliff and I would like to see how fast I can run just an outright marathon now," she muses. "But Kona should be the ultimate test. I feel like I've been waiting for an entire year for one big event! I can't believe it is finally here, and I am ready to go—goals in hand."
Most likely, the Ironman World Championships in Kona will be the last chance to see Kelly Fillnow in action as an amateur triathlete. Then, it is off to play with the big girls and everyone had better hang on to their helmets. If history is any indicator, it is going to be a wild ride.
# # #
Meredith Dolhare is a former top-ranked NCAA Division I tennis player turned multisport athlete who has compiled more than 2,400 miles of long-course racing in two years of. competition. The future of triathlon is in her hands as she raises two boys (10 and 12) who compete in regional races.