It's not "Just a Half Marathon"… It's a FESTIVAL!!!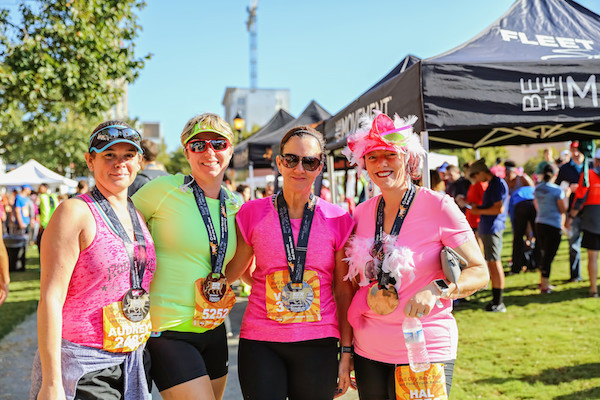 The QuintilesIMS Bull City Race Fest and Food Truck Rodeo starts out like most races. You line up with 5,000 of your closest friends and start running when the gun goes off. But that's where things take a different turn here in Durham! First off, you will run through Downtown Durham which is ever changing and has lots of hip new boutique hotels and incredible restaurants and breweries to notice! Then you'll turn into one of Durham's many historic neighborhoods – Trinity Park. After that you'll briefly enter the beautiful and scenic Duke University Campus before heading down tree lined Anderson Street toward Cranford. As you head back toward the finish line, you'll go through the beautiful Forest Hills neighborhood and then finish on Blackwell where you started after passing the Durham Bulls Baseball Stadium.
Of course along the way, you'll be supported by awesome volunteers and spectators and hear some motivating live music.

But that's the run. That's the part you train for and MOSTLY why you're coming to the 5th Annual QuintilesIMS Bull City Race Fest. There is SO much MORE fun AFTER you cross the finish line at the American Tobacco Campus and get your medal. Because this race is a FESTIVAL! There will be amazing food trucks, a beer garden, bounce houses, bales of hay, a recovery zone and our amazing vendors all creating a super fun atmosphere for a post race fall morning in Durham at Diamond View Park.
While we can't make any promises for the weather this October 22nd, we can tell you that the last 4 years of this race have been PERFECT blue sky, fall days. The morning has been ever-so-slightly chilly, but once the sun comes up it makes for IDEAL running conditions whether you run the half marathon, the 5 mile run or the 1 miler! And by the time you're chillaxing at the Festival – you're enjoying a warm fall North Carolina day!
QuintilesIMS Bull City Race Fest and Food Truck Rodeo
Half Marathon | 5 Mile Run | 1 Miler
October 22 | Durham, NC