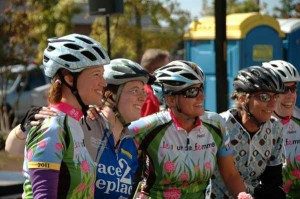 The eighth annual le Tour de Femme is a women-only full metric century, half-metric century and15-mile bicycle ride scheduled for Oct. 12, 2013, in Cary. Le Tour de Femme benefits the Livestrong Foundation and the Angel Fund of Rex Hospital. The mission of the all-women ride is to raise community awareness and funding for cancer research and cancer survivorship programs.
All female cyclists, at all skill levels, are invited to participate in a ride of 15 miles, 31.2 miles or 62.4 miles. The post-ride celebration will allow participants to celebrate their accomplishments while enjoying refreshments and intermingling with one another and sponsors.
For more information, visit www.letourdefemme.org and register today at https://www.bethemomentum.com/event/letourdefemme2013.