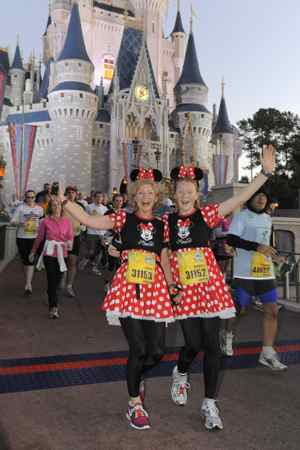 RunDisney is a series of half-marathon and marathon events that provide runners unique opportunities to run through Disney theme parks. Race participants earn Disney-themed medals, experience legendary Disney entertainment and guest service and ultimately celebrate their accomplishments with a Disney vacation.
The original event in the series, the Walt Disney World Marathon Weekend presented by CIGNA, takes place in January, followed by the Disney Princess Half-Marathon Weekend in February and the Disney Wine & Dine Half-Marathon Weekend in September. Disneyland hosts the Tinker Bell Half-Marathon Weekend in January and the Disneyland Half-Marathon in September during Labor Day weekend. More than 100,000 running enthusiasts participate in runDisney events each year.
For more information, visit www.rundisney.com and follow on Twitter @DisneySports.
During the 2011 Walt Disney World Marathon Weekend, 465 runners from North Carolina participated in the Walt Disney World Marathon, while 809 participated in the half-marathon, 135 in the Goofy Challenge and 125 in the 5k.