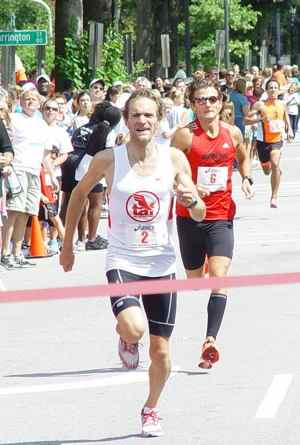 USA Track & Field North Carolina covers running for all people from all walks of life and every age group, from youth to masters. Please join our diverse group of athletes by visiting www.ncusatf.org.
Who We Are
More than 3,700 members in North Carolina in 2011

Members range in age from 8 to 80 and up – youth to masters.

Members are track-and-field athletes, race walkers, cross-country, road and mountain, trail and ultra runners.

Members are coaches, certified officials (more than 200), meet and race directors, parents and fans of the sport.

80 member clubs (youth, open, masters and event)

32 board members and officers from all walks of life – each a volunteer
What We Do
Educate and train officials

Educate and train coaches

Compete at a variety of levels, from beginning runner to Olympic medalist

Conduct and host championships in a variety of disciplines:
North Carolina Junior Olympics Track & Field Championships

North Carolina Youth Track & Field Championship

North Carolina Masters Track & Field Championship

Endurance Magazine Long Distance Running Championship Series

North Carolina Junior Olympic Cross Country Championships

North Carolina Race Walking Championships
To become a member, please visit www.ncusatf.org.
Comments
(0)
Subscribe to this comment's feed
Write comment
---