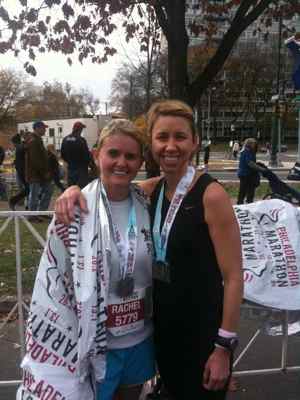 Push Through
By Debra Zacher
Amy Carreira, a Raleigh resident and five-time half-marathon and four-time marathon finisher, knew something was amiss. She wasn't sleeping well and hadn't felt good for weeks. But the last thing Amy thought she would hear after a trip to the emergency room in May was "You have a large mass on your brain."
A few months earlier, when she was starting to train for the Raleigh Rocks half-marathon, she had started displaying symptoms. After hard workouts or long runs she would get "strobe-light-like flashes" in her peripheral vision. Rather than be alarmed, she passed it off as a symptom of overexertion. However, after one particularly long training day, in March, Amy ended up with an excruciating migraine. She went to a local urgent-care center and was given steroids and antibiotics and was thought to have a sinus infection.
She continued to feel like she was suffering from allergies and sinus problems throughout the spring. On May 7, Amy ran a 10k. That race sent the symptoms spiraling out of control. For the next three days she experienced nausea and a feeling that something wasn't right.
Three days after her race, Amy, 39, a graphic designer, was working from home as usual, when she started experiencing numbness in her right check and right arm. "I thought I was having a stroke and I told my husband, Ted, we had to go to the ER right away," she recalls. Once there, a chest X-ray, an EKG and a CT scan were performed. That was when she got the terrifying news: She had a tumor in her brain.
I asked Amy what went through her mind immediately after she received this bombshell from the doctor. "My children," said Amy, who has two sons, Colin, 8, and Trevor, 4. She teared up as she remembered her first thought. "I wasn't scared of dying. I was scared of my boys growing up without a mother."
Since the mass was thought to be slow-growing and did not present as a normal tumor, she was scheduled for a biopsy at Duke Hospital in Durham, N.C., to rule out the possibility of it being an infection. It was not an infection, but two separate brain tumors. They needed to come out.
As Amy lay in bed with her son Trevor after receiving her cancer diagnosis, she spotted her 2010 Philadelphia Marathon medal hanging from his hat rack. The phrase "Push Through" was printed on the ribbon. After he had drifted off to sleep, she took the ribbon with her. Those words became the mantra that would get her through the toughest time of her life.
On May 24, Amy underwent a craniotomy in which she was awake for an hour and a half. She was prepped, brought to consciousness so that she could be responsive, and then put back under while she was closed up. According to Amy's husband, Ted, her surgeon, Dr. John Sampson, said hers was one of the most successful awake craniotomies that he had preformed. Pathology reports on the tumors turned out to be stage three ependymoma, a rare type of cancer that is more commonly found in children. She would need more treatment.
Amy contacted me shortly after her diagnosis because she was interested in talking to my husband, Joe, who was featured in Endurance Magazine last year as a cancer survivor and Ironman triathlete. He has undergone three craniotomies as a result of three separate rare types of tumors as well. Amy and Joe were able to talk after her surgery, but before she underwent chemotherapy and radiation. When I asked her what role that conversation played in her recovery, she replied, "Talking to Joe was a big part of my healing. He was someone who knew what I was going through. Joe gave me that extra push of confidence that I needed to tackle the road of chemo and radiation ahead."
Since they spoke, Amy completed a round of chemotherapy and radiation, and as a precautionary measure will undergo another course of chemotherapy for the next year. The chance of complete recovery without recurrence is excellent. As a result of the treatment Amy had fatigue and some hair loss. She admits that the hair loss was hard at first, but she realized how minor it was in the scheme of things. When things got tough she relied on her mantra. "This brain tumor will not get the best of me. I will push through, keep a smile on my face, and stay positive!"
Amy credits her recovery to her strong faith in God, her fitness, her network of friends (who, along with constant support, gave her rides to Duke for treatments) and her can-do attitude. She started back at the gym just two weeks after surgery. I'm betting it would have been sooner if she had her choice, but due to some complications and medication adjustments she had to wait for the doctors' go-ahead. "The hardest part of the entire thing has been not running," she says, and she eagerly awaits the day that she can hit the pavement again.
Amy says she looks at this experience as a "blessing in disguise." Rather than ask "Why me?" as so many do, she makes it sound like she is lucky. "How many people get to look at their life and get a second chance to make different decisions?" She goes on to say, "I'm kind of glad that it happened. It has made me reevaluate my priorities. I needed that. I have faith that I will get through this bump in the road and be a better person, mom and wife for it."
This was the year Amy was planning to do the New York City marathon. She has deferred her slot to next year's race, and is determined to get there. Barring any more bumps in the road, next November she will run 26.2 in New York City. Amy, we all have faith that you will accomplish your goal. "Push through," friend.
# # #
Debra Zacher is a fitness instructor at REX Wellness of Wakefield and enjoys training for and participating in triathlons. She is passionate about fitness and making the world a healthier place. Deb has two girls who make her aspire to be a better person, mother and coach. She can be reached at This e-mail address is being protected from spambots. You need JavaScript enabled to view it and or through her blog at www.headspinsfast.wordpress.com.
Comments
(0)
Subscribe to this comment's feed
Write comment
---