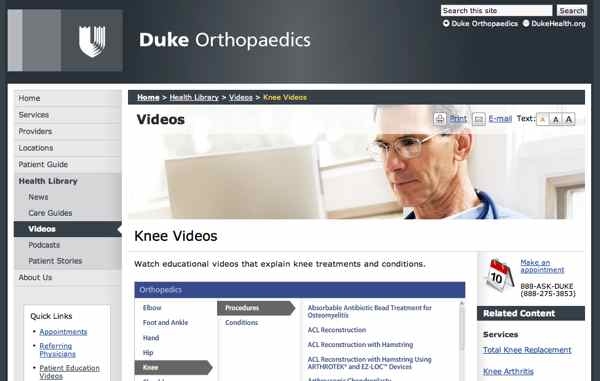 Patient education videos for musculoskeletal conditions are available at www.dukeortho.org/videos.
Runner's Knee
By Ashley Hardin
Runner's knee, or patellofemoral pain syndrome, is characterized by pain behind or around the patella (kneecap).
What causes runner's knee?
Though the exact cause is unknown, patellofemoral pain syndrome tends to be an overuse injury. Runner's knee is common in high-impact athletes, such as runners and jumpers, as well as in manual laborers. Runner's knee can also develop from improper tracking of the patella on the femur, which causes stress on the cartilage and soft tissue lining under the kneecap as it slides against the knee joint – particularly when the patella is misaligned. Patellofemoral pain syndrome can also be caused by excess weight, flat feet or kneecap dislocation.
What does runner's knee feel like?
Common symptoms of patellofemoral pain syndrome include:
-A dull, aching pain around the front of the kneecap when walking up or down stairs, when the knee is bent while sitting for long periods of time, while squatting or while jumping
-A catching, grinding or popping sensation during knee movement
-Knee weakness and instability
How do I know if I have runner's knee?
A physical examination of your knee, as well as a review of your medical history, is key to diagnosis. Your doctor will inquire about your physical activity, assess your knee's range of motion and evaluate your knee's alignment and stability. X-ray and magnetic resonance imaging (MRI) may also help rule out fracture and determine if there is damage to the tissue and structure of the knee.
How is runner's knee treated?
Patellofemoral pain syndrome is typically treated conservatively and without surgery. Common treatments include:
Anti-inflammatory medicines: Reducing the pain and inflammation associated with runner's knee
Activity modification: Avoiding activities that can irritate the injured knee, including keeling, and bent-knee exercises, such as squats
Rest: Limiting activity and immobilizing the injured knee, perhaps by use of a brace or taping to stabilize the kneecap
Ice: Applying a cold compress to the knee to reduce pain and inflammation
Physical therapy: Using therapeutic exercise to strengthen the quadricep muscle and improve range of movement
Where can I find more information?
There are many informational resources for runner's knee. For instance, Duke Orthopaedics offers a collection of 400 patient-education videos on a variety of ailments to help you learn about conditions and treatments before and after your visit with a provider. The library of animated videos can help you have a better health-care experience by allowing you to learn more about common orthopedic conditions, explore various treatment options and understand what to expect in your care.
When it comes time to have the initial meeting with your doctor, you will be more educated on the condition and solutions. This results in a richer doctor-patient interaction. Visit www.dukeortho.org/videos and click on the area of interest, such as "Knee." Scroll through the list of videos and click on the one you want to view. You can choose to play the video with or without narration. When you're finished, you can print a one-page brochure summarizing the video.
While you are viewing one of the videos, you may have questions. At the bottom of your computer screen you will see the link "Please let us know," where you can submit questions. Someone will get back to you by the next business day.
A reminder
Remember that the videos alone aren't enough to diagnose your condition or prepare you for how to treat it. They give great guidance, but be sure to speak to your orthopedic surgeon about the specific nature of your surgery.
Comments
(0)
Subscribe to this comment's feed
Write comment
---