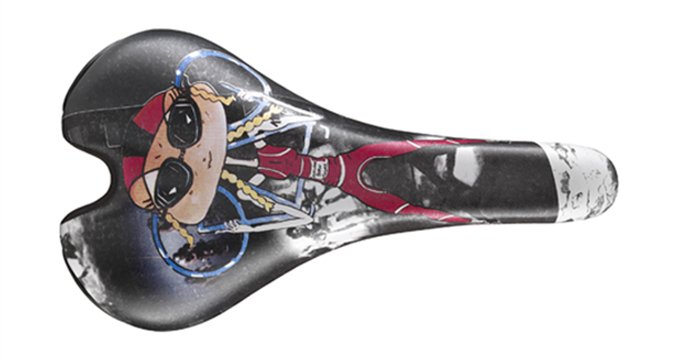 By Melissa Bell
One of the many questions I get from women daily is what saddle would help relieve uncomfortable pressure. Most of the time we can correct saddle issues via a bike fit; however, there are times when this is not the case. Trying chamois butter or getting new cycling shorts may also help, but often it is time for a different saddle. The good news is that as the sports of cycling and triathlon have become more popular, the number of saddle options available has greatly increased. The downside of this is that now the options are so many it is hard to decide which saddle to try first.
Fizik saddles are handmade in Italy and combine performance with comfort. In the 6 years I've been riding, I've always used a Fizik saddle, so I may be a bit biased, but when the new Vesta saddle came out by Fizik I wanted to try it. Wondering what Vesta meant, I Googled it and found that in mythology Vesta was the goddess of the hearth of Rome. The Vesta has Kium rails and weighs only 249 grams, a little lighter than most women's saddles. The Vesta has a pressure relief area described on their website as "comfort relief for your most precious parts." This channel allows for relief in the soft tissues.
The Vesta also contains wing flex, a Fizik technology to allow for free thigh movements and better pedaling. Along with the wing flex, the fabric on the saddle is Microtex, which is very durable, water resistant, and easy to clean. Another feature I liked was that it comes in four colors (five if you count the demo), white, black, white/gray, and Miss Berlin. Yes, Miss Berlin is a cartoon on the saddle (no, thanks, I don't really want to sit on a face while I'm riding). Plenty of options to match the color of the bike!
The Vesta is a road saddle, so I put it on my Pegoretti. The bright green color of the demo saddle did not go too well with my orange bike, but luckily they have other color options. Having ridden the Vitesse women's saddle for two years, I was pleasantly surprised to find the Vesta was not much different. There's nothing worse then getting a new saddle and having to constantly adjust the fit. Luckily with the bike manager's help, the saddle lined up perfectly with my measurements and I was ready to roll.
The first ride on the saddle was outside; when I sat on the saddle I was surprised to find I had literally no pressure in the soft tissue area. I felt almost nothing underneath me. It was amazing. I kept thinking about it—probably a little too much. Every time I got out of the saddle to climb I sat back down and felt no pressure. After about 30 minutes into the ride I thought, This is my new saddle. I really enjoyed the ride. However, after about 60 minutes, my sit bones started feeling pressure. There was more pressure on my right side. After 90 minutes on the bike I still felt the pressure on my sit bones. Toward the end of the ride I felt it less and less, so hopefully it was a positioning issue. The main feature of the saddle, the pressure relief area, lives up to its description. I didn't feel any pressure in my most precious area (ladies, you all know where I'm talking about—guys probably don't want me to point it out).
My second ride on the saddle was a trainer ride. I hopped on, and again, no pressure—in fact, it felt even better the second time around. My main issue with trainers is being stuck in one position for long periods, so any saddle that is comfortable on a trainer is my ideal saddle. I was in shock with this saddle. After 60 minutes, I still felt no pressure, not even in the sit bones area. I was so happy. After 90 minutes I felt a little pressure in my right sit bone, but the saddle was amazing and surprisingly comfortable on the trainer. I wish I could have gotten a longer ride in on it, more than 3 hours, to see if over the long haul it would work. Though the saddle is a road-specific saddle I would have liked to try it in the aero position. With the relief channel starting in the nose of this saddle I would like to see if the soft tissue pressure relief transfers to the aero position.
I will definitely continue to ride this saddle and look forward to testing it out in longer rides and on my triathlon bike. I prefer the Vesta over my current Vitesse saddle, as during some of my rides I was having some soft-tissue issues. I'm confident the Vesta will help with these and become my new Fizik saddle.
If you find yourself having saddle issues, I recommend replacing your old cycling shorts with new ones (men's sometimes work better for females), use chamois cream and get a bike fit check, and if things are still not working, try the new Fizik Vesta. Ask your local bike shop for a demo saddle you can take and try out prior to purchasing. It's a great option to test ride without having to fully commit to the saddle. Happy training!
# # #
Melissa Bell is the store manager of the Inside-Out Sports in Charlotte, NC. She holds a masters in Clinical Exercise Physiology and is an ACSM Registered Clinical Exercise Physiologist. When she's not at the store, you can find her running and riding around Charlotte.
Comments
(0)
Subscribe to this comment's feed
Write comment
---