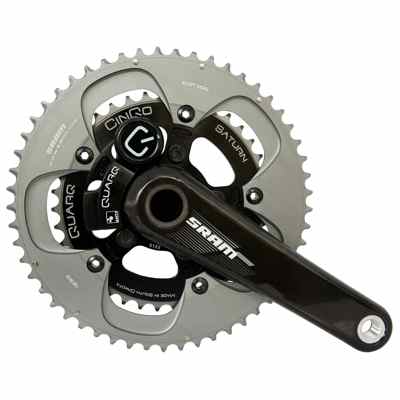 By Cid Cardoso, Jr.
During the last few years, using "power" to gauge performance and measure effort when cycling has become increasingly common. One cannot watch a stage of the Tour de France without hearing the commentators and experts discuss the power outputs of different riders. Coaches are writing training plans based on power, and among techies and cyclists on the peloton, the talk often revolves around watts. First used in cycling in the '80s by pioneers such as Greg LeMond, training and racing based on power has really taken off only in the last decade. This is mainly because it took years for the technology to develop and for devices capable of measuring power to become small and light enough to attach to a bike, and accurate enough to be useful.
Manufacturers have taken different routes on how to attach these power-measuring devices, known as powermeters, and how to measure power. Most mobile powermeters, like Quarq, Powertap and SRM, use strain gage technology, which measures in a very controlled way how certain areas flex in specific locations when load is applied. They calculate torque and analyze angular velocity to come up with watts generated. Others measure power "through handlebar-mounted units that utilize the principles of Newton's Second Law by measuring a cyclist's opposing forces (gravity, wind resistance, inertia, rolling resistance) and combining these with velocity to determine the rider's power output," according to Davanti Cycling Coaching Center in Boulder, Colo.
Quarq, which uses the first method, attaches the powermeter unit to the crank to the measure torque in the drivetrain of the bicycle. Quarq is the name of the company (recently acquired by SRAM), while the powermeter system is called CinqQo. The Quarq CinQo is basically a "crank spider" that includes conventional five arms and then sensors, a replaceable CR2450 battery, and other instruments, attached to a ring called the "Ring of Saturn." It includes 20 strain grids and 10 gauges in a proprietary arrangement and comes in several variations in order to fit different cranks. The CinQo can currently fit specific crank models from SRAM, Bontrager, TruVativ, FSA, Rotor, Cannondale, and Specialized. Note, though, that it does not fit all models from each of these manufacturers. For compatibility questions, go to www.quarq.com. It is also available in compact versions for most of the crank brands mentioned.
The Quarq CinQo can be purchased with the crankset and rings (the most common manner), or by itself, in which case the crankset has to be sent to Quarq for installation and calibration. This can take up to a few weeks, with the exception of a couple of cranks, for which this can be done at the bike-shop level.
In order to view and record the power, the rider still needs a device capable of receiving the now-common ANT + radio transmission. This device may be a watch or cyclocomputer, such as most Garmin models, the iBike iAero, the Specialized Speedzone Pro, the Bontrager Node or the CycleOps Joule.
I started integrating power in my training a couple of years ago, by using a Computrainer (which offers electronic controlled load and power readings for a stationary bike). I quickly saw the benefits of measuring effort in a way that related a little more to legs (fatigue and strength) than just heart rate, although I did see a direct correlation with heart rate in terms of overall effort. I immediately enjoyed the feedback and goals that power measurement offered, so much so that I found myself doing some of my hardest workouts indoors, even on nice days, trying to hit my target wattage. Eventually I decided to bite the bullet and get a mobile powermeter for my bike. I chose the Quarq CinQo primarily because it was crank-based (more on this later) and it was less expensive than other models in the market. It was money well spent.
Like the Computrainer, I found that the Quarq CinQo was extremely useful in pushing me harder on the hard days, and helping me with pacing on the long days. Unlike the Computrainer, the Quarq CinQo also freed me to ride outdoors. On my interval days and time-trial days, having a target number (wattage) made me work harder than I would have without it. And because the measurement of power is not affected by the terrain or the wind, I could do workouts on different courses, depending on the circumstances. For pacing, the average-wattage function was crucial. After talking with my coach, we determined that my goal wattage for IM Louisville was 230 watts. Based on a lactate threshold test, that goal wattage should have put me close to the time I wanted to hit and still be able to run. My actual wattage was 232 and I rode a 5-hour-11-minute for a 112-mile rolling-hills course. More importantly, I was able to run a 3:37 marathon, resulting in a solid, well-executed race. A few weeks later, I went into IM Hawaii with the same plan. There I averaged 234 watts and rode 5 hours and 10 minutes on the 112-mile windy, rolling course. My 3:48 run was not quite as fast, but still good for a hot day. I attribute much of my overall success at both of these races to sound pacing on the bike, made possible by the powermeter. It was nice to be able to push hard enough and know that as long as I was averaging close to my goal, I was not overdoing it. It was also comforting to know that I had to slow down if the numbers kept creeping up higher than the goal.
Regarding the unit itself, I liked the Quarq CinQo for several reasons:
Installation was quick and easy. OK, you may need to take it to your local bike shop, but, having gotten the powermeter unit with the SRAM S-975 crank, my mechanics didn't need any special tools or several hours to follow overly complex directions. They simply installed the new crankset like any other crankset, and placed a magnet near the bottom bracket shell (so that it rides along the "Ring of Saturn"). In fact, since I already had a SRAM red crankset, I didn't even need to change the bottom bracket.

Second, it was simple to get started and to use it. All I had to do was set my Garmin to display power, move the cranks backward three rotations, and voila. No long manuals to read, no time-consuming downloads and no extra calibrations.

The powermeter unit added very little weight or bulk to my bike. The Quarq CinQo adds less than 200 grams, which is approximately 7 ounces, and it has an almost insignificant effect on air drag due to its low profile and small size.
It has been extremely consistent and reliable. The readings are in line with my effort on a regular basis and in six months of use it has never malfunctioned. Quarq says that its accuracy is plus or minus 2% and that seems to be good enough for me. I found that the readings from the CinQo were normally a little higher than those from my Computrainer and that may be attributed to potential transmission losses (chain, gears, etc.) in measuring power in the wheel vs. the crankset .
Finally, I like the fact that it is a crank-based system as opposed to a hub/wheel-based system. I use inexpensive durable wheels for training and deep carbon aero wheels for racing. The CinQo stays with the bike no matter what wheel is used. It also came in handy this year when I qualified for Kona and could not use my regular rear racing wheel, which is a disc. I could simply use a borrowed Zipp 808 rear and not worry about how to measure my wattage during the race.
Getting a powermeter is still a significant monetary investment. Purchasing the SRAM S-975 crankset along with the Quarq CinQo powermeter will run over $1,800. However, my experience is that the Quarq CinQo is reliable and easy to use, and it can be an invaluable training and racing tool when used purposefully. If you are willing to make the investment, you should be willing to do some research on how to use power, or talk to a coach who has experience with it.
# # #
Cid Cardoso, Jr., owner of Inside Out Sports, has been doing triathlons for more than 20 years. This October, he competed in his 26th Ironman – his eighth appearance at Kona. A veteran of ultramarathons, he has competed in Team RAAM twice. He has seen equipment evolve with the sport and continues to test new products to assess their impact on performance. He trains, works, and resides in Cary, N.C., with his wife, two daughters, and son. You can reach him at This e-mail address is being protected from spambots. You need JavaScript enabled to view it .
Comments
(0)
Subscribe to this comment's feed
Write comment
---