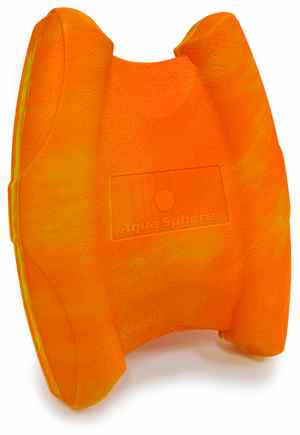 By Cid Cardoso, Jr.
What do you get when you cross a kick board and a pull buoy? You get the Aqua Sphere P2K (PsquaredK) Board. Aqua Sphere took two very different products that have been around for years and combined them into one versatile product that can be used for both activities. They even added a third use, which is to serve as a resistance trainer for upper body push and pull exercises.
Aqua Sphere, owned by Aqua Lung International, is a manufacturer of a wide range of swim-related products that include goggles, swimwear, training aids and wetsuits. They came to prominence several years ago with the innovative Seal Mask, a cross between goggles and a scuba mask that took the triathlon and open-water swimming world by storm. Their Kaiman goggles, which provided swimmers with an extremely easy-to-adjust buckle system and 180-degree distortion-free Plexisol lenses, also became immediate favorites among triathletes and swimmers of all ages. Since then, they have expanded their eyewear protection line and have branched into swimwear and wetsuits. They have also been aggressively pursuing the training aid and fitness categories, and the P2K Board is their latest attempt to innovate in a direction that not even swim-product giants like Speedo and TYR have dared to go.
When I first heard about this product, I scratched my head trying to visualize it. I had visions of this green magic beam in a cartoon being aimed at a kickboard and then a pull buoy, and creating this lopsided, weird-shaped Styrofoam blob. But the P2K looks much sleeker and more elegant than I expected. If it had not been for the bright orange color, it would practically look like all the other training aids scattered around the pool deck. Two questions came to mind: Why use it, and does it work?
I can see two reasons why one would want to purchase this dual-purpose product: to save money and to save space. The Aqua Sphere Classic Pull Buoy sells for $9.99 and the Aqua Sphere Kickboard, with its hydrodynamic shape and ergonomic hand grips, sells for $9.99 so I don't see much of a financial gain here. Granted, the P2K Board also provides push resistance for water exercises, but as a triathlete, I don't see myself using that third application as much. The P2K Board nevertheless does fit into a smaller space than the two products it replaces. This may not be a big deal when taking a big mesh bag to the pool but for those who travel and swim at different pools all the time, this may be a welcome convenience.
Regarding functionality, I found that using it as a pull buoy took some getting used to. The narrow part that fits between the legs, although narrower than my regular buoy, was not an issue. However, the side bulges are not as substantial and therefore require more concentration and better (leg) position to keep it in place. In addition, the board is longer than a conventional pull buoy and thus tended to slide out of place as my legs bent during flip turns. I suspect that this would be an even greater problem for shorter swimmers. As a kickboard, though, the P2K performed surprisingly well. I thought the side bulges that were important for the pull buoy application would create a noticeable drag, but that was not the case. The bulges actually served as a place to rest the arms and the board glided through the water fairly effortlessly. I even switched back and forth between the P2K and a regular kic board but found the difference to be negligible. The regular board was a tad bit more stable but the P2K did the job quite adequately.
If you're a triathlete like me who comes from a land-sport background, you probably love to pull during swim workouts and hate to kick. Pulling, which should be done sporadically, can improve the swimmer's stroke by artificially putting him in a good position and allowing him to focus on other aspects of the stroke. It can also help improve upper-body strength. Kicking, although often neglected, is important to increase ankle flexibility and put the swimmer in a more horizontal position, thus decreasing drag and increasing buoyancy. Having one piece of equipment for these two types of swimming workouts can be a nice convenience. Like many products (hybrid bikes, cross-training shoes, etc.) that attempt to do two quite different things, it succeeds in doing both OK but neither great (in this case, it does one OK and one kind of well). For those who travel, who have a small bag, or who are looking for one piece of equipment that can be used for swimming and for resistance training in water, this is a useful product. For others, the classic pull buoy and kickboard still work just fine.
# # #
Cid Cardoso, Jr., owner of Inside Out Sports, has been doing triathlons for over 20 years. This October, he competed in his 26th Ironman – his eighth appearance at Kona. A veteran of ultramarathons, he has competed in Team RAAM twice. He has seen equipment evolve with the sport and continues to test new products to assess their impact on performance. He trains, works and resides in Cary, N.C., with his wife, two daughters and son. You can reach him at This e-mail address is being protected from spambots. You need JavaScript enabled to view it .
Comments
(0)
Subscribe to this comment's feed
Write comment
---