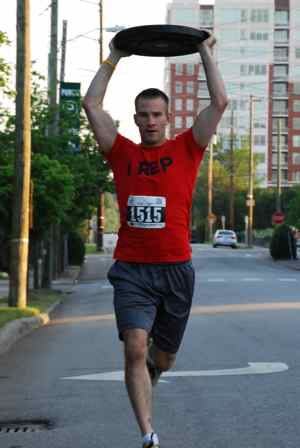 By Jeff Robinette
Yesterday, St. Patrick's day, I did something new. No, it wasn't the latest iteration of a Jager Bomb with a festive Irish twist. Like a Jager Bomb, however, it did keep me wide awake, make my face crunch up into several distinct expressions, and leave me hurting all over the next morning. Yesterday I completed the Palmetto Swamp Fox, my first ultra distance event.
The Palmetto Swamp Fox is a 12-hour adventure race held just north of Charleston, S.C. The event officially starts at 7 a.m. (but you better be dropping off your bike and prepping your gear by 5) and ends at 7 p.m. What sets the Swamp Fox apart from other races is that it is dynamic, the course is interactive, and your actions have consequences – real, tangible consequences. Once your bike has been dropped off at the transition area you proceed to the starting point, where you check in and are given UTM coordinates for 20 of the 24 checkpoints spread across a map detailing 520 square kilometers of the Francis Marion National Forest. The other four you will have to figure out during the race.
I entered the race as a solo competitor, but unofficially teamed up with Will Guidi and his friend Adam, who had already registered as a two-man team. Fortunately for me, Will and Adam competed last year, placing seventh, and served as stellar mentors. Together, the three of us packed our gear, staged our bikes, plotted our points, strategized our route, and started our race.
My first reality check came an hour into the race when I decided to break from the main pack and go down an inlet from the main channel. I had been talking to a team consisting of a father and his 14-year-old son paddling next to me, who sounded absolutely confident that this particular channel was the one that led to the first checkpoint. Keep in mind that half of the pack had cruised right past it. I was among the first three kayaks to break off into the channel, and a decent way into it I turned around to realize I could no longer see Will or Adam. Within one hour of the start of the race I had placed my trust completely in the person next to me rather than my team and I could now potentially be completely on my own for the next 11 hours. This one action had the potential to dramatically change the remainder of the day. Will and Adam did find their way down the same inlet and we met at the first checkpoint. They had trouble keeping their kayak going in a straight line, causing them to fall back a bit. We passed people along the way who had gotten lost, who had plotted points incorrectly, and we knew that misreading our map could easily throw us a mile off course, costing us time and, more importantly, energy.
We triangulated to find the unlisted points, ran, kayaked, saw dolphins and the sunrise, ran, kayaked some more, and rode our bikes. In all we covered probably 10 miles running, 20 in the kayaks, and another 40 on our bikes, hitting 22 of the 24 checkpoints before we decided we didn't have enough time to seek the final two.
There were points in the race that, for lack of a better word, sucked. Times when negative thoughts entered my head and the mental struggle began: "It's hot." "I've been paddling for nine miles and my arms hurt." "I really wish I had put my cell phone in that Ziploc bag." "Blisters are forming on my hands." "There are still nine more hours of this." I had to break out of that negative thought pattern. I did it by raising my head and taking a moment to consciously process my surroundings: I am in the middle of beautiful national park, only half an hour ago a dolphin swam underneath my kayak, I learned a new skill and am now proficient, I saw the sun rise over the water this morning, when I wake up hurting just as much as everyone else the day after St. Patrick's Day the difference will be that I'll be waking up with a sense of accomplishment. The reality check made the negative thoughts disappear.
I ended up placing ninth in the Men's Solo division. If you ask how I trained for the Swamp Fox my response would surprise most people. I didn't go running. The only regular running I do is on Saturdays when my team has its soccer games. I didn't go biking. I actually just bought my bike last week. I didn't go kayaking, either. I've only done that one time before, ever. The only training I did was going to Umstead once with Will to learn how to land navigate and going to Raleigh CrossFit as often as I could.
CrossFit enables your body and mind to do things you would otherwise not think possible. It challenges the validity of limits placed on yourself.
When most people see kipping pullups or hear talk about the Workout of the Day they don't understand; they may give you funny looks or shake their heads. But you were brave enough to give it a try and you found something you identified with, something that clicked. CrossFit is a springboard that says, "You are ready for the next step, go ahead and jump, dive into the deep. The treasure is down on the bottom; go get it!" You have already seen faces of those who don't understand and you jump anyway because maybe, just maybe, you can find and share in the enjoyment, accomplishment, adrenaline, or whatever it is that those other crazy few, who already had the guts to try, found in it for themselves.
What I'm trying to say is CrossFit was never intended to be limited to the box. CrossFit is meant to be taken outside and put into action. Think outside the box.
Comments
(0)
Subscribe to this comment's feed
Write comment
---