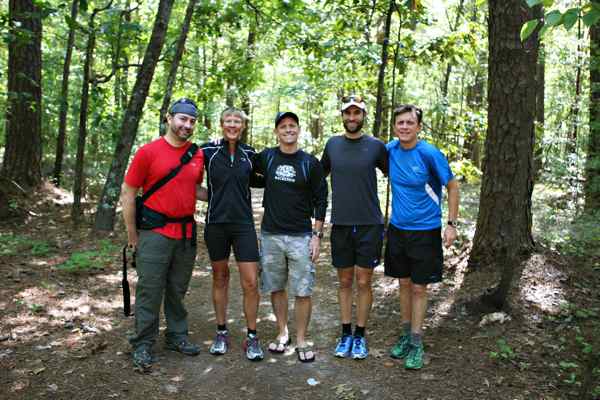 By Joe Nuss
The NC USATF Endurance Magazine 2012 Long Distance Championship Series kicked off on March 17 in Durham with the Equinoxalizer 4-miler. Runners from Blowing Rock's ZAP Fitness took home honors in both the men's and women's races. For more coverage of the race and a great shot of the battle for the men's title from Durham-based DayMeetsNight Photography check out our race recap in this issue. Next up in the series is our own Wells Fargo Tar Heel 10 Miler Presented by CEP, which showcases the UNC campus and the beautiful town of Chapel Hill. At press time, the Tar Heel 10 Miler had already surpassed 3,500 runners, topping last year's turnout a month ahead of the race!
As our championship series rolls on, we get to break the exciting news of ultra-running icon Diane Van Deren's planned Mountains-to-Sea Trail run, an epic adventure made possible with the help of her sponsor The North Face and North Carolina's own Great Outdoor Provision Co. I got to spend a few moments with Van Deren and Chuck Milsapps from the Great Outdoor Provision Co. last fall and look forward to following Diane's journey from the North Carolina mountains to the sea, which we preview in this issue.
Van Deren isn't the only phenomenon we cover in this issue. If you haven't guessed by the mud splat on our cover, this is our second annual mud-run issue. The number of events we previewed last year has more than quadrupled for this issue as the spectacle and fun of mud and obstacle-course racing shows no signs of letting up. A former Marine and mud-run veteran myself, I'm proud to bring you previews of the many new races and their continued support of our soldiers, sailors, airmen, and Marines with their charitable efforts. New this year in our coverage is a quick reference key to some important aspects you'll want to know about each run.
Not to be lost in all of this issue's mud and muck is our annual spring shoe review guide, a gear review on some hot Zipp wheels, tips on getting the muck off your clothes and your bike, and another great recipe. We're also expanding our event-preview section to highlight more great events in each issue. Whether you're looking for your next mud run, championship running event, or triathlon, check out our SPORToften calendar in this issue and online at www.SPORToften.com.
Inspire. Perform. Endure.
Comments
(0)
Subscribe to this comment's feed
Write comment
---