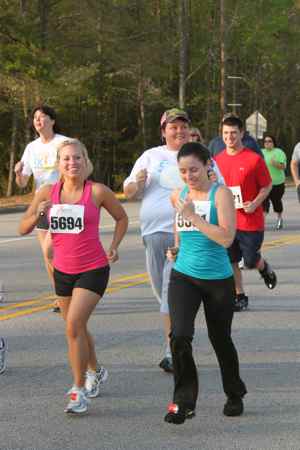 Lancaster, S.C. - May 5
The third annual Race for Literacy 5k is a charity event created to raise awareness of literacy programs supported by Carolinas Literacy Network. All funds raised by the Race for Literacy are used by Carolinas Literacy Network to guide an active collaboration of learners, literacy providers, and supporters toward creating significant and enduring improvement to regional literacy levels.
The Race for Literacy course is a relatively flat, yet challenging route through the residential area surrounding the University of South Carolina Lancaster (USCL) campus, located at 476 Hubbard Drive, Lancaster, S.C. The course has been certified by RMSSports. Race participants can run, walk, and even bring a four-legged friend (on a leash, of course) to this fun event. USCL Health Services will host a health-and-fitness clinic with vendors and activities open to the public.
Moisture-wicking T-shirts are guaranteed to the first 200 registrants. The registration fee prior to April 15 is $20; after April 15 it will be $25.
The start time for the race is 8 a.m. Medals will be awarded to overall male and female winners as well as to male and female winners in six age brackets: 10 and under, 11-15, 16-20, 21-30, 31-40, and Masters, 41 and over.
Race packets may be picked up on Friday, May 4, at the Carolinas Literacy Network office located at 105 W. Dunlap St. in downtown Lancaster, or at USCL on the morning of the race.
Carolinas Literacy Network believes that effecting enduring change throughout the region requires awareness of the problem, and willingness from everyone that it touches to be responsible for a small part of the change. The 5k Race for Literacy gives residents a chance to join the effort to transform the problem of limited literacy into the power of a highly literate, prepared workforce. Carolinas Literacy Network works to achieve that transformation by collaborating with the most effective programs and services already operating within the region, and by providing resources that enable them to serve more people. Rather than "reinventing the wheel," Carolinas Literacy Network steers the wheels of change through every sector of the community, hoping to create access to life-long learning opportunities.
Register now at www.carolinasliteracy.org or www.sportoften.com.
Comments
(0)
Subscribe to this comment's feed
Write comment
---