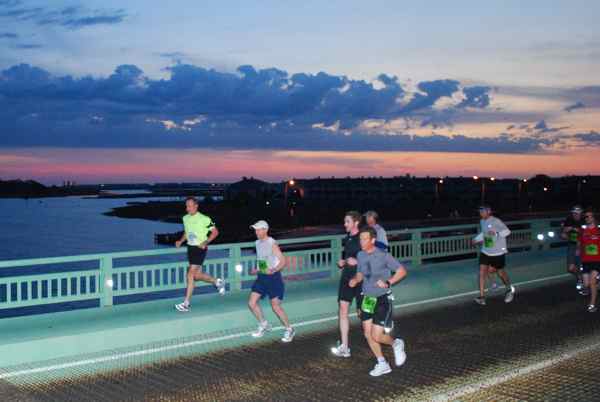 March 18, 2012 - Wrightsville Beach, N.C.
The Quintiles Wrightsville Beach Marathon presented by Landfall Realty is your chance to "Run on the Road and Play in the Sand!" With world-class shopping, beautiful beaches, famous restaurants and a historic downtown waterfront, why participate in just another race weekend when you can have a complete vacation experience and notch your PR too!
Throughout this fast, flat, Boston-qualifier course, runners will be able to enjoy the scenic coastal views of Wrightsville Beach, Landfall Community and Mayfaire Town Center. Each competitor and their supporters can take full advantage of all the fun offered by this world-famous beach destination.
Quintiles Marathon participants and spectators will also get a chance to meet Bart Yasso. Yasso invented the "Yasso 800s," a marathon-training schedule used by thousands around the world. He is one of the few people to have completed races on all seven continents. In 1987, Yasso won the U.S. National Biathlon Long Course Championship and won the Smoky Mountain Marathon in 1998. Yasso will take part in the Quintiles Marathon TrySports Expo by hosting an autograph and book-signing session. He will also be speaking at the pre-race pasta dinner to inspire and motivate all of the athletes.
Registration is now open for the third annual Quintiles Marathon and Half-Marathon. Both races are set to kick off at 6:30 a.m. Sunday, March 18, 2012.The event will be the largest participatory race in the Wilmington/Cape Fear area, and is expected to draw nearly 3,000 competitors from dozens of states, and a spectator crowd of roughly 10,000. Sign up now at www.wrightvillebeachmarathon.com to "Run on the Road and Play in this Sand" next March.
Proceeds from the event benefit two great organizations: The Multiple Myeloma Research Foundation and the Landfall Foundation.
Comments
(0)
Subscribe to this comment's feed
Write comment
---