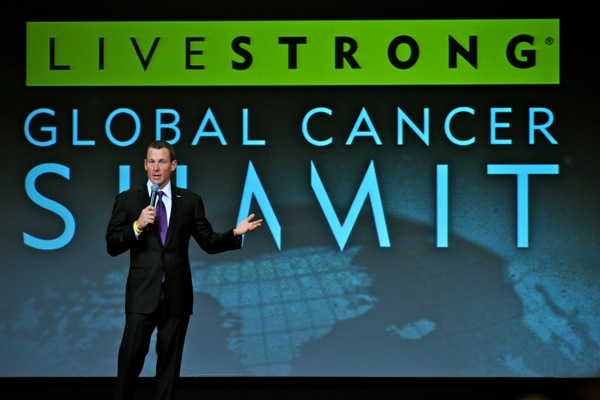 ENDURANCE EXCLUSIVE—The Lance Armstrong Interview
At age 25, Lance Armstrong was one of the world's best cyclists. He proved it by winning the World Championships, the Tour Du Pont (including North Carolina's Beech Mountain, where he would later begin his comeback), and multiple Tour de France stages. Lance Armstrong seemed invincible and his future was bright.
Then they told him he had cancer . . .
You could say the rest is history, but you'd be wrong. While Lance still wants another Tour de France victory, his ultimate goal is not winning for himself but, helping others win, too—win the fight against cancer.
For our first-ever Cancer Awareness Issue, Endurance Magazine went straight to the top and sought the input of the most prominent and influential person in the fight against cancer. Here's our exclusive interview with Lance Armstrong.
Lance on LIVESTRONG and Its Mission
What's your biggest challenge for LIVESTRONG?
One of the biggest challenges we are currently working to overcome is establishing electronic medical records for all cancer survivors. According to a government-sponsored survey published in 2008 in The New England Journal of Medicine, only about 17 percent of the nation's physicians are using computerized patient records. We believe it is a right of patients to have control of their records and keep them in a safe, convenient, and electronic format. Electronic health exchanges would allow patients to become more fully involved in their care—moving from passive recipients of care to active participants by having convenient access to their health information, controlling where their information flows, and matching care strategies to their personal health profiles. As cancer survivors move through the phases of treatment and survivorship, access to their medical records is essential.
What's the importance of Patient Navigation and what can be done to improve it?
Navigating through treatment is tough. To help guide survivors through the process, we provide services via SurvivorCare—our free, confidential, one-on-one support hotline that offers assistance with cancer-related issues, including: counseling and referrals to local resources; help addressing financial, employment, and insurance concerns; and clinical trials matching new treatments in development.
As part of our efforts to expand these services, this fall we are planning to open a patient navigation facility at our Austin headquarters, where trained professionals will address all cancer-related concerns. The center will serve people with cancer or at risk for cancer, with an emphasis on underserved populations in the Austin area, while working to improve access to all available support systems ranging from information and education to financial assistance and family support.
Outside Magazine recently listed the LIVESTRONG Headquarters as one of the "Best Places to Work." What's the importance of providing a great working environment in pursuing the mission of LIVESTRONG?
Inside LIVESTRONG's headquarters you will find a team of 80 inspiring movers and shakers. The environmentally friendly building is flooded with natural light and open space, inviting a spirit of collaboration and energy that echoes the foundation's mission. Whether they are dreaming up a community outreach event or biking for the cause in the LIVESTRONG Challenge, the employees are part of a family that is passionate about transforming the world around them.
Are there any programs being developed to help transition cancer survivors into endurance sports?
For the past 13 years, LIVESTRONG has hosted the LIVESTRONG Challenge Series, a fundraising event that encourages individuals to ride, run, or walk for the fight against cancer. Raising more than $60 million for the cause, the Challenge creates awareness, rallies support and challenges people to take care of their bodies. In 2010, the Challenge will visit four cities across the U.S.
In 2006, the first year I ran the New York City Marathon, we also created TEAM LIVESTRONG, so people could participate in their own events and still support the cancer fight. We don't live in just one city or compete in just one event, but we're one team. We walk, run, ride, or tri in the fight against cancer. This year Team LIVESTRONG will participate in more than two dozen events across the globe.
In 2009, we partnered with the YMCA to create LIVESTRONG at the YMCA. The program provides an evidence-based physical activity and wellness program for people affected by cancer.
When you sit down with someone who first discovers they have cancer, what's your advice when they ask you "What now?" or "Where do I go from here?" What advice would you give a survivor?
For someone diagnosed with cancer, I think that hope is the greatest weapon to have. There can be—and should be—life after cancer for more people, and I want people to know that.
I spent countless hours reading information and asking questions. It's really important to advocate for yourself and be sure that the treatment you are getting is the best treatment for you. I got a second opinion, which can be tough to do. We are inclined to not question our doctors and to trust them implicitly. That being said, the second opinion I got was the right one for me, so I would encourage people to seek more opinions.
I also think a person with cancer needs to seek out support from friends and family. I had a group of people there to listen to me, cheer me on, and remind me I wasn't alone. I always felt that other people were invested in my survival. You can't overestimate the benefit of that kind of support and friendship.
Ask the tough questions, get a second opinion, take good care of yourself, surround yourself with family and friends, and do whatever it takes to keep hope alive. We believe that unity is strength, knowledge is power, and attitude is everything—and that is true for every person affected by cancer.
How much have cycling and running been your vehicle for awareness versus a means for prevention/recovery?
One of the driving forces behind my return to cycling was to raise global awareness for the fight against cancer. My goal was threefold: to raise awareness about cancer, which becomes the number-one cause of death worldwide this year; to reduce the stigma surrounding the disease and let people know that it is survivable; and to ignite a grassroots movement around the world.
This season, Team RadioShack and I are continuing to raise awareness of the global cancer burden. Though many people don't talk about it, virtually all of us know someone who has fought cancer, so for example, we dedicated our ride in the 2010 AMGEN Tour of California to these unsung heroes by featuring the names of individual cancer heroes on our bikes. The customized "I Ride For" stickers are a show of strength and designed to raise awareness of the personal nature of battling cancer.
How much does your continued success as a cyclist (in racing) impact the level of awareness you generate?
In 2006 and 2007 the Tour de France wasn't really on my radar. I wasn't avoiding it; it just wasn't on the front burner for me. Between my kids, lobbying for cancer funding and training for several marathons, my life was plenty full.
However, I got on the phone with Doug Ulman, a three-time cancer survivor and President and CEO of LIVESTRONG, and asked if my comeback could help the foundation's budding global effort. Doug was immediately enthusiastic. He helped me form an itinerary that would have me meeting with cancer survivors around the globe—and with the foreign leaders who could have a lot to say about making cancer a global priority.
I'm proud to say that in its first year, the LIVESTRONG Global Cancer Campaign generated 300 commitments to the fight against cancer from more than 60 countries around the world, representing an investment in cancer control of more than $200 million.
It seems LIVESTRONG's original mission was to inspire, but now seems more to empower. How has it evolved/become more effective over the years?
Our mission is both—to inspire and empower people affected by cancer.
I didn't know the first thing about starting a foundation when we came up with the idea back in 1997. I just knew I wanted to help. I was sitting at a restaurant in Austin, Texas, with my closest friends and we decided something had to be done, hopefully something that would affect at least one life.
So, with great support from my friends and the community, LIVESTRONG was born. In the early years we raised an average of $7 million a year. This year, I am proud to say, our goal is to raise more than $40 million. Perhaps the success of me and my teammates on the bike brought more attention to our mission, but what truly made us flourish was our ability to connect people and communities to drive social change. To date, we have raised more than $350 million in the fight against cancer, provided financial resources to more than 550 organizations that conduct cancer survivorship research or offer services to people affected by cancer, and 80 cents of every dollar donated to LIVESTRONG has supported our cancer survivorship programs and initiatives to make cancer a national priority.
Lance on the Importance of Social Networking
You can influence more than 1,000 people to join you for a ride or run simply by posting it on Twitter. What role have Twitter and other social networks played in raising awareness about cancer? What role do you see those social networks playing in your philanthropic causes in the future?
At LIVESTRONG, we are effectively using social media to fight on behalf of the 28 million people living with cancer today. Through online engagement, we are finding innovative ways to raise awareness, fund research, and end the stigma about cancer that many survivors face. We are connecting people and communities digitally to drive social change, and calling for state, national, and world leaders to help fight cancer. By empowering survivors online, LIVESTRONG is building a social movement that is pushing for transformational change.
Personally, I have embraced social media because it brings people together. For years I've trained and raced with other professionals and there was this image that sure, we can all ride bikes but we'd never actually get the chance to ride together. I want to change that because at the end of the day I'm just a cyclist, a guy who likes to ride his bike, and I want to ride with other people who are passionate about it as well. And by using something like Twitter we can get together as a community, ride our bikes, and keep building this grassroots movement. When we ride together we're like this unstoppable army, and I plan to keep on doing this as long as there are people who'd like to go for a ride.
Lance on His Journey
How does it feel to make a comeback?
Cycling has always been my passion. In all honesty, my back gets tired quicker than it used to and I get out of bed a little slower than I used to, but when I'm going, when I'm on the bike—I feel just as good as I did before. For me it's always been about the process—the process of getting there is the best part. You start the season a little out of shape, a little heavy. You get in better shape. You lose some weight. I mean you're just crafting this perfect program. I love my job.
How has your perspective on life changed since overcoming cancer?
A cancer diagnosis changes a person forever. I've been a competitive athlete for most of my life and I'm sure I would have pursued a long career in professional cycling either way and with success. But cancer put suffering and pain and fear—which are all part of any Tour de France—in perspective. No mountain stage in the Tour can compare to it. Cancer gave me focus, a purpose, and a lot to live for. This is a life I owe to cancer. I appreciate my life in a completely new and better way because I faced cancer and was lucky enough to survive. Cancer has also allowed me to give back to my community and now the world in a way that I would never have imagined.
When you returned to the UCI tour in 2009, you were adamant about how it was to build awareness. Is your future in Ironman going to be driven with the same intent, or is that interest part of your personal journey?
Right now I am focused on Team RadioShack and LIVESTRONG. I can promise you I won't stop fighting for the 28 million people around the world living with cancer today until we find a cure for this disease.
What's your biggest personal challenge?
Of course I want to win an eighth Tour de France, but the most important issue is getting cancer on the global public health agenda.
You've inspired so many people—who has inspired you?
I'm lucky to meet so many people through LIVESTRONG that remind me how courageous the average cancer survivor is, and it's a reminder that cancer doesn't discriminate. I have met people from all over the world with all types of cancer and more brave kids than I can count. A person could get discouraged by that. At LIVESTRONG, we use it to inspire us to work harder to help survivors face the challenges and changes that come with cancer.
# # #
If you or anyone you know has been affected by cancer, please call the LIVESTRONG free one-on-one support program for cancer survivors, SurvivorCare at 866-673-7205 (English) or 866-927-7205 (Spanish). SurvivorCare is also available online at www.livestrong.org.
Comments
(0)
Subscribe to this comment's feed
Write comment
---