Each month, Endurance Magazine Online will feature a review of new shoes, currently available at many specialty retailers throughout the U.S. Nearly every model can be found at these specialty running stores, but more importantly, you'll find the people that know running and can help you find the shoe that will best meet your individual needs based on foot type, running style, mileage and where you like to run. Use this information as an appetizer, but for the main course, be sure and visit your local specialty running store since they are the ones that can truly satisfy your craving for the right shoes you can use.  This week, we feature the K-Swiss miSOUL Tech Run ONe:
Support: Stability / Price $125.00 / Weight (Cushion Insert): 9.8 oz. (women) & 11.5 oz. (men) / Weight (Lite Insert): 9.2 oz. (women) & 10.5 oz. (men)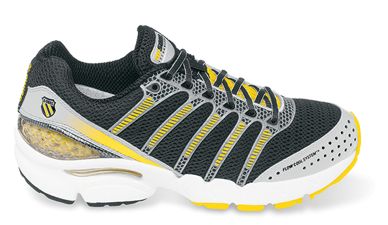 This lightweight stability shoe is versatile. Why? It features a modular, interchangeable sole system engineered for customized performance.  It's breathable thanks to the Flow Cool System located from heel to toe.  Included are the Lite 1.0 and Cushion 1.0 - interchangeable insoles designed for speed and comfort.
"Customizable, firm ride with interchangeable footbeds make this a standout.  Breathability is great in this shoe, even in the heel cup, which is also vented.  This is a versatile trainer, which would make a good racer if a bit more weight could be shaved.".
- Michelle Lebrun, Co-publisher, New England Runner Magazine
Comments
(0)
Subscribe to this comment's feed
Write comment
---