Posted by: Joe Nuss on Feb 24, 2009
Tagged in: Untagged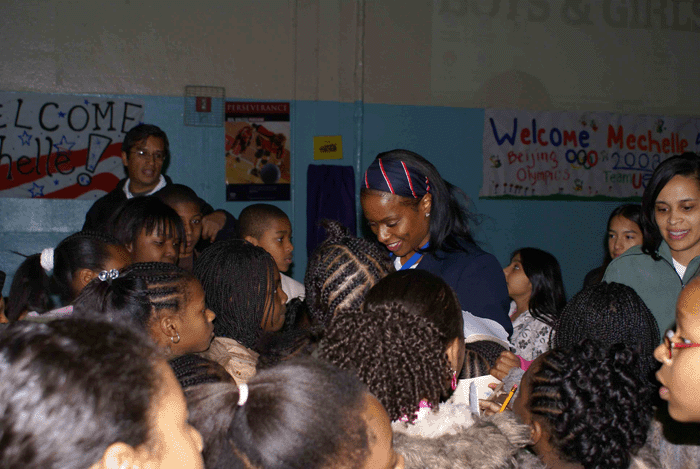 MeChelle Lewis, track and field Olympian spoke to girls and boys at a packed gymnasium at the Boys & Girls Clubs of Wake County located at 605 N. Raleigh Blvd yesterday as part of the U.S. Olympic Committee's "Real Athletes Persevere" Program. The Program is being conducted in the Triangle thanks to the partnership between the Triangle Sports Commission and the U.S. Olympic Committee, announced in October of last year, whereby the Triangle Sports Commission became the USOC's newest Community Olympic Partner. An important component of the Community Partner Program involves education and outreach to local schools and community groups.
Lewis competed in the 4x100 Women's Relay in Beijing, and was a member of the 4x100 relay team that won a gold medal at the World Championships in 2007. Lewis spoke to the Wake County Boys & Girls Club members about the importance of hard work and perseverance.
After running a personal best of 10.97 at the Olympic Trials, Lewis made her Olympic debut in 2008, at the Beijing Olympics. Before competing in the Olympics, the Maryland native had a noteworthy career, finishing fifth in the 2007 United States Track and Field National Championship and then competing at the 2007 World Championships. Lewis was a three-time All-American at the University of South Carolina, and one of the American Advertising Federation's Top 25 Most Promising Minorities in Advertising.
Currently, Lewis is a professional track and field sprinter, and resides in Cary, N.C. For more on MeChelle Lewis, visit her website at http://www.mechellelewis.com/.
Comments
(0)
Subscribe to this comment's feed
Write comment
---