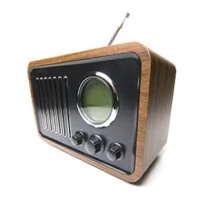 This morning Steve and I met at the
1360 WCHL studio
, in Chapel Hill.  WCHL is a proud sponsor of the
Franklin5000
and they've agreed to conduct several radio interviews with our team to help us get the word out about Chapel Hill's Premier Running Experience.
Things were surprisingly casual.  I was half hoping to be whisked off to some sort of green room where I would be thoroughly prepped and made to feel more important than I am, but that didn't happen of course.  Instead, when we arrived we were pretty much immediately escorted into the sound-proof studio where we met the morning show, Jeff Hamlin, who was sitting in for Ron Stutts.
Before I knew it we were ON AIR!  Jeff asked Steve and I several questions regarding the history and reasons behind the race, which he then followed up with questions about the race course and where people can go to register.  Steve got a quick plug in about our Race Without A Trace initiative and then it was time for the traffic report.  Quick and easy.
Tune into WCHL, Chapel Hill-Carrboro's New, Talk, and Tar Heels Station for more interviews with Steve and I during upcoming Friday morning shows.
Comments
(0)
Subscribe to this comment's feed
Write comment
---