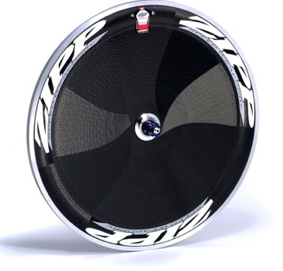 By Cid Cardoso, Jr.
It's spring time again. The weather has finally gotten warmer. We suddenly have that desire again to start running harder, riding longer and even getting in the pool one more time per week. It's also the time we start thinking about how to make our bikes faster. What kind of speed can I buy now? For time trials, the answer is always related to aerodynamics. Naturally then, new wheels should always be a consideration. Not only can they save minutes in a 25 mile time trial, they can also make our bikes look like space age racing machine. Nothing makes a bold statement in the transition area that one is ready to race (or ready to PR) like new wheels. The deep rims, dark weaved carbon fiber pattern, swooshing decals are not just radical; they also enhance the bikes performance like nothing else.
Since there are so many wheel options these days, I've decided to pick two of my favorites to review in the subsequent months. This is part one: a disc wheel (and more specifically, the Zipp 900 Clincher Disc). A long time ago (mid eighties) in a place not so far away (anywhere USA), when you wanted to get a faster wheel, you purchased a disc. Most bought discs for the rear wheel but some brave individuals tried them in the front as well. These original discs were heavy, often industrial looking and made a very loud sound during rides. However, they were also fast, especially in flat and rolling courses. They became the choice of every pro triathlete and time trial cyclist in the world. The aerodynamic advantage was undeniable. On the front, the use was more limited since their solid side surface caught a lot of wind and made steering quite difficult (remember that most of the rider's weight is on the rear while the steering is in the front…two factors that allowed a disc to be used in the rear with little impact on steering).
Twenty years later, there are a lot of other wheel choices. Nevertheless, discs are still the most prevalent choice among pro triathletes and in professional time trials. Why? They are still the fastest type of wheel around. Most aerodynamic experts will agree that under normal conditions (some wind and on rolling courses), a wheel with no spokes to cut through the wind simply create less drag. Plus, the reduction in weight that has come with new technology (ie their lighter weight) over the years has made discs popular even on hilly courses around the world. 
Zipp popularized the disc with its tremendously successful 900 Tubular Disc. This flat disc, made out of a honeycomb material sandwitched between two rigid layers of carbon (called VCLC or Visco-Elastic Constrained Layer Control) has a production weight of about 936 grams, making it lighter than most training wheels. It is also durable, somewhat shock absorbent and stays fairly true, but for 10 years was only available with a tubular rim (the one that requires a tire with a tube sewed inside and glue to attach it to the rim). Two years ago, using the M2CM technology that they developed in their 808 rims, Zipp finally introduced a clincher rim version of the 900 Disc. Multi-Material Co-Molding, as described in their website, involves molding a light aluminum rim on to the carbon structure of the wheel, incorporating a toroidal structure that acts like a leaf spring to reinforce the rim during impacts with the road. This not only increases strength but offers an aluminum breaking surface, which is more familiar to most athletes and do not require special brake pads. 
Although a little heavier than the 900 tubular version (it weights 1219 grams, but most clincher rims do weigh more due to the lip that holds the tire in place), the 900 Clincher Disc actually tests better in wind tunnel tests. The patented toroidal rim shape (or the outward bulge) of the outer part of the wheel, facilitates air flow (more than a completely flat disc) in most wind angles thus reducing air drag. This bulging rim shape also offers some vertical compliance, which has shown to reduce fatigue during long races. Like most other wheels in Zipp's lineup, the Zipp 900 Clincher Disc's outer surface is covered with dimples. Zipp's Aerodynamic Boundary Layer Control, or layered carbon sheets imbedded with golf ball like dimples, smooth out the airflow around the entire wheel further decreasing drag. 
The clincher aspect of the disc is also a plus for many cyclists and triathletes. Many don't want to deal with glue or tape in order to properly secure the tire while others don't like spending $50 plus when they get a flat. Furthermore, lately some pro triathletes and prominent tire manufacturers are suggesting that some new clincher tire/rim combinations provide better (less) rolling resistance than other tubular options. 
I've always liked discs and have used a Zipp 900 Disc as my racing wheel of choice for the last 10 years. Recently, I tested the clincher version and found that it performed better than originally expected. I never felt that the 900 gave a harsh ride and the clincher version felt similar to other training wheels in regards to vertical compliance. Yet, the lateral stiffness was still there. The acceleration was perhaps a fraction slower due to the additional weight but once rolling, the bike just seemed to build as I gained momentum. Having raced on tubular for years, the clincher was a welcomed option. The wheel felt no slower on the road and still provided the previously mentioned economical advantage. 
Discs are still the fastest wheels for the rear and the Zipp 900 clincher is one of the best options around. With so many choices, not as many people purchase discs mainly due to the price and the fact that some spoked wheels are lighter (and people like having 17 lbs bikes although in most situations aerodynamics will trump weight in terms of speed gain). There is also the misconception that the disc "only works at speeds of 25 mph or great". Aerodynamics matter even at 13 mph, therefore a more aerodynamic wheel will always help, unless other factors become more extreme, like severe elevation change or obscenely strong winds. In courses like Kona, where the cross winds are so strong that they can knock the rider off the bike, the disc is obviously not the best choice. For all other courses, it is still my choice.
# # #
Cid Cardoso, Jr., owner of Inside Out Sports, has been doing triathlons for over twenty years.  Last October, he competed in his 21st Ironman - his sixth appearance at Kona.  A veteran of ultramarathons, he has competed in Team RAAM twice.  He has seen equipment evolve with the sport and continues to test new products to assess their impact on performance.  He trains, works, and resides in Cary, NC, with his wife, two daughters, and son.  You can reach him at This e-mail address is being protected from spambots. You need JavaScript enabled to view it
Comments
(0)
Subscribe to this comment's feed
Write comment
---