Trail Shoes: Would You Bring a Knife to a Gunfight?
By D.C. Lucchesi
One of the looming worries most new trail runners have isn't about getting lost, finding the potty or even which trail is best.  It's usually about shoes.  Specifically, are trail shoes considered a "must have" if you're going to run off-road?  The answer is a definite maybe.  I know guys who've tackled the toughest and longest of trails in road shoes, but the added confidence and comfort of trail shoes makes them an investment worthy of serious consideration.
Nowadays, trail-specific running shoes aren't some cut-down hiking boots or beefed-up road shoes disguised in darker colors.  Trail shoes provide better overall traction, greater stability and often some underfoot protection to deaden the impact of sticks and stones you'll stomp on along the trail.  In fact, with a little effort you can find a shoe that fits not just your foot, but is suited to the kind of trail you like best.  Here are 2 shoes to consider:
New Balance 876 OR – MSRP $99.95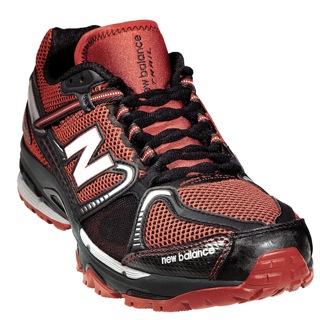 Let's face it.  If you're investing for the very first time in a trail shoe, you want something that's going to enrich the experience, inspire confidence on the technical stuff and – in your perfect world – still meet your needs when you're ready to take on more aggressive terrain.  The New Balance 876 does all that.  Right out of the box it feels ready to run.  True-to-size and secure without feeling binding, the fit is sure to win new followers without alienating its current fan base.  
New Balance has had a "8" series trail shoe in its lineup for what seems like forever, and as more and more other shoe makers have entered this market with attempts at what I would consider "price point" offerings, New Balance has managed to keep this series viable and priced right for the entry level and enthusiast trail runner.  The 876 is new from the ground up – literally.  There's an all-new upper design that felt almost seam-free in my test model.  The attached, debris-free tongue stays in place and rides just high enough to keep some trail scree out of the shoe.  It stayed solid underfoot except on the most slippery uphills and the semi-straight last and low-to-the-ground design made it feel incredibly stable despite the shoe's otherwise neutral characteristics.  Huh?  A lower profile shoe allows your feet to adjust quickly to the changing terrain; ergo, fewer falls and twisted ankles. 
It's perfect for routine training on all but the most aggressive stuff.  Sure, New Balance makes lighter, more "high-tech" stuff with other bells and whistles – and higher price tags, but if you're looking for a starter trail shoe that's also got potential to go beyond entry-level, the 876 has the chops to go as far and as hard as you're willing to push. 
Gear Check: Brooks Cascadia 5 – MSRP $100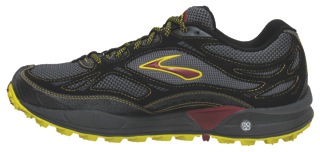 Brooks ain't playin' with this one here.  When they wanted to make a "real" trail shoe, they didn't consult charts and graphs and kids at the mall.  They wanted trail runners, and arguably they went all the way to the top enlisting uber-ultrarunner Scott Jurek in the design of the Brooks Cascadia.  And he's not just picking out colors.  This guy's got a hand in everything it seems but sewing the things together.  And it shows.
So what's that mean for you and me?  For starters, it means you've got a trail shoe you know is going to stand up to the worst you, the elements and the trail can dish out.  The Brooks Cascadia 5 is built low-to-the-ground so it feels incredibly stable despite its neutral characteristics and the Pivot Posts wedged into the midsole just behind the arch help keep the heel in check.  However, runners needing a little more stability or those with flatter, wider footprints may feel a little more "medially exposed" due to the Cascadia's cutaway arch. 
The ride is comfortable and efficient, and transitions well from heel to toe.  The upper is as breathable as any road shoe – which should help this one drain like a sieve on those stream crossings – and the outsole rolls smoothly and confidently over most any trail surface.  And is it ever green! Brooks uses its sand-, not oil-based, HPR Green outsole rubber in all its trail shoes and some other models.  The Cascadia also features Brooks' BioMoGo midsole; the shoe industry's first readily bio-degradable midsole material.  Now that's something every trail runner can love.
# # #
D.C. Lucchesi runs himself ragged on the trails and lives to tell (and write) about it on his blog at http://dirtyjokesandstories.blogspot.com. If you'd like to join the fun, email him at This e-mail address is being protected from spambots. You need JavaScript enabled to view it .
Comments
(0)
Subscribe to this comment's feed
Write comment
---