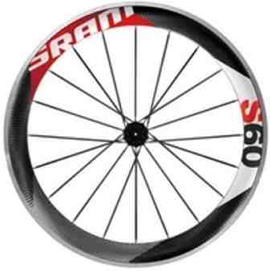 By Cid Cardoso, Jr.
Now for my wheel review part deux: in the previous issue I reviewed the Zipp 900 clincher disc… fast, cool and not so easy on the pocket. In this issue, I review the SRAM S60 wheelset... still fast, still cool looking and screaming versatility. As I often tell customers, when it comes to wheels, the customer can pick two out of the following three attributes: aerodynamic (more than 40mm in rim depth), light weight (below 1600g for the pair) and affordability (under $1,400 for the pair). I have yet to find a wheelset that combines all three. As a triathlete on a budget, I would pick aerodynamics and a reasonable price, and the SRAM S60 wheelset fits that bill perfectly.
The S60 wheels were introduced in 2009, following SRAM's acquisition of Zipp. Manufactured by Zipp, these wheels allow SRAM to further broaden their product line into the aero wheel market and compete in a price point that has no clear favorite among consumers, while still maintaining their high quality image. The S60 uses structural woven, deep profile carbon rims with Zipp's unique torroidal shape (bulging out) for a proven combination of aerodynamics and strength. The S60 model actually has a rim depth of 60mm and SRAM offers the S40 with 38mm depth and S80 with 82 mm depth as well, for those desiring either less weight or less drag. Like Zipp's clincher disc, these wheels use an aluminum breaking surface, which should feel familiar to most cyclists and not require special brake pads. The freehub uses a special 6-pawl format for rapid engagement and cartridge bearings for low maintenance. Only available in clinchers, they should satisfy most athletes looking at wheels at this price point. 
The 22mm rim width of the S60 works well with most tires and provides a good ride, while still fitting most time trial frames. As most spoked wheels, these are truable wheels, which are a positive feature in my opinion, as they allow the mechanic to tweak them if they come out of true. However, the nipples have to be reached through the aluminum part of the rim that faces the tire, using a special wrench. The wrench comes with the wheelset and the process is not overly complicated, but it still requires the tire and tubes to be removed… not a huge deal on a clincher wheel but still a little more work.
The S60 front wheel has 18 bladed spokes for a wheel weight of 835g and 20 bladed spokes in the S60 rear for a wheel weight of 1015g (for a total pair claimed weight of 1750g). This is not heavy by any means, especially considering its aerodynamic profile. However, it is still quite a bit heavier than the Zipp 404s. According to Zipp, their typical Zipp rim requires up to 60 pieces of CNC cut carbon fabric in addition to the corresponding labor to lay them up properly. This reduces excess material which in turn makes the rim lighter and yet just as strong. The cost of the wheel though, also goes up significantly. The SRAM rims on the other hand (also made by Zipp), use far less pieces of cut carbon fabric and therefore also substantially less corresponding labor. Their final strength and shape are virtually the same but these rims weigh close to 200g per pair more than Zipps clincher version, but also cost about $1,000 less at retail (for the pair).
I found the S60s perfect for all around riding. They were comfortable, and yet laterally stiff enough for me. They accelerated quick and cornered like I wanted them to. They stayed true through several training rides and so far seem strong enough to withstand everyday riding from even the roughest riders. Note that these wheels are rated for riders up to 220 pounds but I suspect that riders over 200 pounds may feel some flex. The only issues I've seen so far with these wheels have been the decals, which have come unglued in some wheels. SRAM assures us that this issue has been fixed in the wheels shipping past March. In addition, the fact that the issue was non-structural is less concerning to me than if it had to do with the integrity of the wheels. And speaking of decals, the SRAM wheels are available with the SRAM's traditional red decals or in more neutral silver, which is a nice touch for those who like to match the wheels with the bike.
Up to now, manufacturers have had a hard time supplying the market with a high quality, good looking, and performance oriented aero wheelsets for less than $1,400.  The SRAM S60 wheelset are affordable "do it all" wheels. For the triathletes and time trial specialists seeking a little more aerodynamic advantage, I would recommend the S90s in the rear and even the front. The most popular set up among triathletes seem to be the S60 front and the S90 rear, which is a good combination of weight, aerodynamics, ride quality and price. Either way, although the S60s are probably not the fastest wheels I've ever tested, when it comes to versatility and affordability, they are certainly on top of my list. 
# # #
Cid Cardoso, Jr., owner of Inside Out Sports, has been doing triathlons for over twenty years.  Last October, he competed in his 21st Ironman - his sixth appearance at Kona.  A veteran of ultramarathons, he has competed in Team RAAM twice.  He has seen equipment evolve with the sport and continues to test new products to assess their impact on performance.  He trains, works, and resides in Cary, NC, with his wife, two daughters, and son.  You can reach him at This e-mail address is being protected from spambots. You need JavaScript enabled to view it
Comments
(0)
Subscribe to this comment's feed
Write comment
---